Really Big Plasma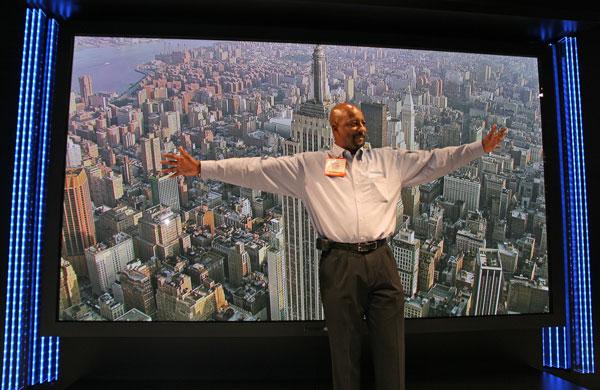 We are in the process of completing the home theater. It is located in the basement, and I have complete control of the lighting. It was designed to use a projector or flat panel, but unfortunately, it seems a flat panel may be the only option.
I have discovered it is relatively easy to find LCD flat panels in sizes up to 80 inches or more, but I would prefer a plasma rather than an LCD. However, no one makes an 80-inch plasma for under $6000. Panasonic makes the TH-85PF12U and TH-85VX200U, but those are roughly $20,000 and $30,000, respectively! Does anyone make an 80- or 85-inch plasma for under $6000, and if not, why? I can't believe there is no market for this in the HT world.
Vincent A.
You're right—as far as I know, Panasonic is the only company that makes plasmas larger than 65 inches. (In addition to the ones you mention, don't forget the 103-inch TH-103PF12U for around $40,000 and the 152-inch TH-152UX1, shown above, for a cool half-million bucks!) As for why no one else makes really large plasmas, I don't know—I can only surmise that it isn't cost-effective and would never result in one for a price that enough people could afford.
If you don't want an LCD, the only other options are front projection—which would work just fine in a completely light-controlled basement unless there are other factors I'm not aware of—or a rear-projection TV from Mitsubishi, which makes models up to 92 inches. The WD-92840 lists for $6000, but I've seen it online for less than $4000. Mits also makes four models of 82-inch RPTVs, which would obviously be less than that. Granted, they are bulkier than flat panels, but if you don't want an LCD and you can't accommodate front projection, these are your only option for a screen that big at a reasonable price.
If you have an A/V question, please send it to askhometheater@gmail.com.
LATEST VIDEO