RealD at SID 2011
In addition to
the news that RealD has partnered with Samsung to make so-called active/passive 3D flat panels
, the company had some other interesting announcements and demos at the SID conference this week. For example, even though RealD is known mostly for passive-polarized 3D glasses, it has also developed universal active-shutter glasses that work with any manufacturer's active 3DTV.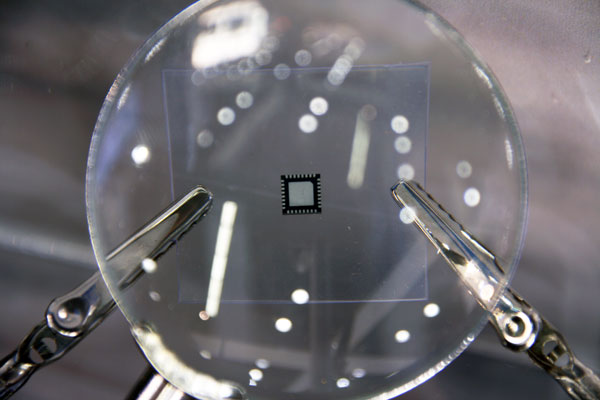 The company has reduced all the electronics to a single, tiny ASIC (application-specific integrated circuit), seen here under a magnifying lens, which means the glasses can be made smaller, lighter, and in more styles than previous generations. The batteries can be made replaceable or rechargeable, and they can sync to IR or Bluetooth signals. Not only that, power is recovered from the LCD lenses themselves as the charge on each LCD drains away during its off cycle, leading to longer intervals between charging or replacement. These glasses will be sold at various retailers starting at $50. RealD hopes to have them in stores by July or August.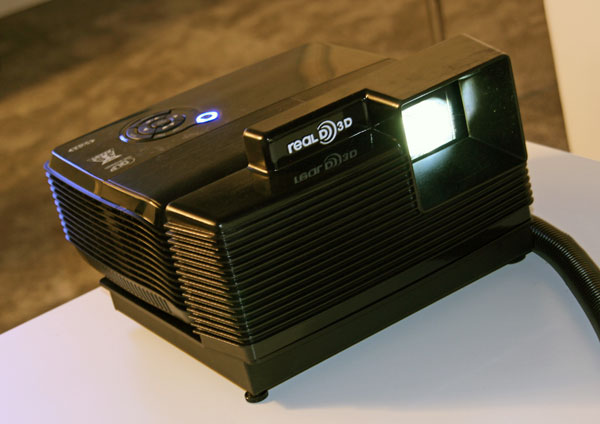 Another interesting item in RealD's booth was a demo with a mini ZScreen being used with a consumer-grade DLP projector—in this case, a ViewSonic 1280x800 business model. As you may know, most commercial 3D cinemas use a single digital-cinema projector with a RealD ZScreen in front of the lens. The ZScreen alternately polarizes the light for the left and right eyes in sync with the projector as it displays the corresponding left and right images on a special silver screen, and viewers wear passive-polarized glasses to see the 3D effect. Now, the company is planning to bring the same technology to home-theater projectors.
Of course, the projector must be 3D-capable, and the system only works with DLP models at this point. In the demo, it was operating at 120Hz, or 60Hz per eye, and it looked quite good. However, it was a proof of concept only—there's no word on when such a product might be available to consumers.
The bottom-line story from RealD at SID 2011 is its full range of 3D technologies—full-resolution passive eyewear for 3D enthusiasts (Samsung active/passive flat panels and mini ZScreen) and relatively inexpensive universal active eyewear for those who buy 3DTVs that use shutter glasses. It looks to me like the company has its bases pretty well covered.