Digital Projection Titan Reference 1080p 3D DLP Projector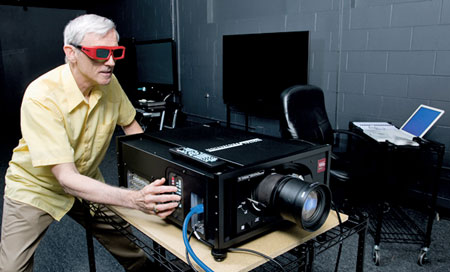 Since I profiled the Titan Reference 1080p 3-chip DLP projector from Digital Projection International (DPI) in 2009, the company has upgraded it to include 3D capabilities. And unlike most Ultimate Gear products, I've actually spent some time with this one while Tom Norton was reviewing it for the October 2010 issue of Home Theater. How about a sneak peek?
Like virtually all consumer-oriented 3D displays, the Titan uses active-shutter glasses—in this case from XpanD—sending an IR sync signal from an emitter that, in our studio, was mounted under the projector to reflect from the screen. I assume you could mount the emitter above the screen, but that would require a long cable, and we didn't have any problems sitting 18 feet away from the 120-inch-wide Stewart Studiotek 130. The XpanD glasses have no power switch, activating automatically whenever they are pointed at the screen with 3D content being displayed.
With two 300W UHP lamps, this baby is bright—Tom measured nearly 50 foot-lamberts at 100 IRE with both lamps on! That's way too bright for 2D material, but the glasses reduce the amount of light reaching your eyes by about 70 percent, which results in a 3D peak-white level of about 15fL—just what a projected image in a dark theater should be and a lot brighter than any 3D flat panel and most commercial cinemas I've seen.
The 3D images produced by the Titan are spectacular—certainly better than any flat panel and at least as good as any commercial presentation I've seen thanks to the large image size and high brightness. And 2D looks absolutely gorgeous, especially if you turn off one of the lamps. But what else would you expect for nearly $85,000?
The only flies in the ointment were a few glitches with some discs and players. For example, the Panasonic DMP-BDT300 Blu-ray player would only play 3D titles if the player and projector were in side-by-side mode, which cuts the horizontal resolution in half. (There was no problem with 2D Blu-rays on the Panasonic.) And Ice Age 3: Dawn of the Dinosaurs in 3D routinely froze about five minutes into the movie from any player. But the Samsung BD-C6900 player worked fine otherwise, and most other 3D titles didn't have any problems.
I tend to think these bugs are simply growing pains of a new format that will be resolved over time—after all, we've seen a few glitches with other 3D displays, players, and titles. DPI says it is working on solving these problems and will issue firmware updates as solutions are developed. Meanwhile, the Titan is still the best way to watch 3D at home—as long as you have the dough to afford it and a technician to set it up. For more, see Tom's featured review in the October 2010 issue of Home Theater.