RCA Scenium HD50LPW175 50-inch DLP HDTV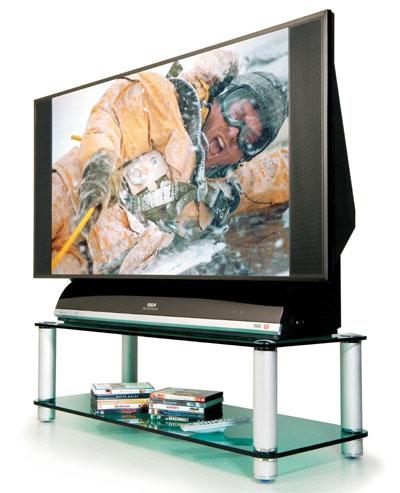 What We Think
RCA's 50-inch Scenium isn't perfect but still delivers plenty of bang for the buck.
If you've been reading
Sound & Vision
, you may have noticed that Texas Instruments' DLP display technology has been getting a lot of attention in
S&V
. That's because of a new "wobulating," or "Smooth Picture" - TI's own term for the process - DLP chip that achieves an effective 1,920 x 1,080-pixel resolution using only 960 x 1,080 "micromirrors." (For more on this technology, see "
Pixel Magic: How TI Puts the 1080p in DLP
".) But before 1080p DLP started to make waves, TVs with a wobulating 720p DLP chip were first introduced back in summer 2004. Though it has lower resolution than its new big brother, this chip still offers wobulation's key advantage - a smooth picture free of visible pixel structure. And while you're at it, throw in lower cost vs. a "discrete" 720p DLP chip, thanks to the reduced mirror count.

RCA's Scenium HD50LPW175 rear projector enjoys both these advantages, boasting 720p Smooth Picture technology in a 50-inch DLP set with an attractive $2,300 street price. Despite its affordable ticket, the RCA sports a stylish look, with the screen flanked by black speakers with thin stripes of black bezel setting off the top and bottom. The whole thing sits atop a curvy black base accented with a silver bar across the bottom. A single defeatable blue LED power indicator is the only sign of life other than the picture - that is, until you touch the tiny, barely visible light bulb icon on the base. That's when a blue touchpanel lights up to await your instruction. Undoubtedly cool, and very stealth - I couldn't even find the controls until I read the manual. It's also extremely svelte for a 50-incher, measuring only 15.25 inches deep.
The remote, though comfortable to hold and conveniently backlit, isn't nearly as good looking as the TV. The tiny lettering might be difficult to read, but that's pretty par for the course, and thankfully, most major buttons are within thumb's reach.