Rango Fandango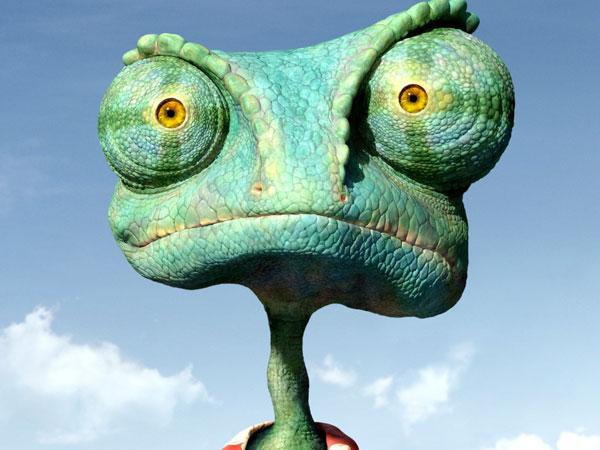 I just saw
Rango
, the new animated western populated by anthropomorphic animals and starring the inimitable Johnny Depp voicing the title character, and I thought it was a real hoot. Not only were the voice characterizations superb, but it has some of the best animation I've seen to date—and it's not even 3D!
Directed by Gore Verbinski (who also brought us the three Pirates of the Caribbean movies), this is the story of a hapless chameleon lost in the desert who happens upon the town of Dirt, where water is the coin of the realm and in very short supply. It's an archetypical tale of finding the hero within after spending your life not knowing who you really are.
Verbinski turns the classic western on its head, offering a surrealistic vision unlike any I've seen. Replete with every imaginable cliché—almost too many, in my view—the laughs keep coming throughout the movie's 107 minutes, thanks in part to a great script by John Logan and the exceptional voice talents of Depp, Isla Fisher as Beans (Rango's love interest), Ned Beatty as the corrupt mayor of Dirt, Alfred Molina as the mystical armadillo Roadkill (a surprisingly appropriate name), Bill Nighy as bad guy Rattlesnake Jake, and Timothy Olyphant, who does a spot-on impression of Clint Eastwood as Spirit of the West.
Speaking of Spirit of the West, the animation of that character is incredible—one of the most realistic human faces I've seen. Interestingly, the few other human faces in the movie are not nearly as detailed, a common characteristic of animated movies, leading me to suspect that Spirit of the West might have been derived from actual photography of Eastwood. By contrast, the animal characters have beautifully detailed skin textures and hair and wonderfully expressive faces, and the animated water is particularly striking.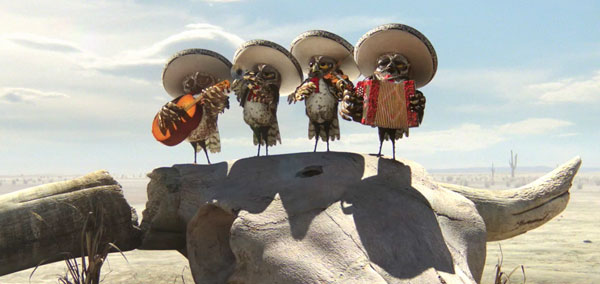 Other than Rango, my favorite characters are four owls in a mariachi band that serves as sort of a cross between the chorus in a Greek play and Mexican correo balladeers. Led by accordion player Señor Flan (voiced by George DelHoyo in a great impression of Antonio Banderas), they sing and speak directly to the audience about what is happening to our hero—though they get it wrong sometimes!
The reviews I've read have been all over the map. Roger Ebert of the Chicago Sun-Times calls it, "…some kind of miracle: An animated comedy for smart moviegoers, wonderfully made, great to look at, wickedly satirical, and (gasp!) in glorious 2D." On the flip side, Michael Phillips of the Chicago Tribune says, "It is, for what it is, a work of considerable care and craft. And it's completely soulless." I'm with Ebert on this one.