Qsonix QJB110 Nostalgic Digital Jukebox Page 2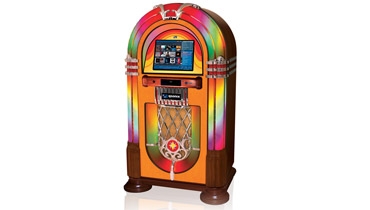 PERFORMANCE
Once it's powered up, the Qsonix jukebox comes alive with a glowing array of revolving rainbow-colored lights and bubbles. Even when nothing is playing, there's a sense of excitement and animation surrounding it that other products can't match. It will become the focal point of whatever room it's installed in.
While the lights and bubbles look cool, the magic happens on the touchscreen, which acts as the portal to Qsonix's terrific interface. The 15-inch screen, which is big enough to easily read and select everything, is divided into Album Browser, Now Playing, and Playlists.
It's a cinch to surf your collection and find music since you can browse by artist, album, genre, year, and cover art. A bar at the bottom of the screen lets you jump immediately to a letter for quick navigation through large collections. Plus there's a powerful search feature for hunting down artists, albums, and song titles.
You use your finger to drag your selection into the Now Playing area. That might not sound like much, but it's so intuitive and cool that you have to experience it to appreciate it. You can drag selections over in a variety of ways: single albums, specific tracks, or by genre. You can also select all tracks by an artist, in a specific year, or from an entire decade. Selecting by genre also lets you drill down into more detailed subcategories - for example, jazz that's modal, postbop, or fusion.
The Qsonix integrates metadata from the All Music Guide (now known as Allmusic, or just AMG) to provide automatic track and CD identification. The server's powerful track indexing allows for three excellent playlist-generating features. The first, Play Similar Songs, lets you quickly generate an evening's worth of music around the vibe of a single song. I simply selected a Sinatra or Bennett song, and almost every subsequent tune fit in with the feel of my initial choice. The second feature, Tapestry, allows for more focused automatic music selection with Themes like "Feelin' Good" and Tones like "Passionate/Sensual." The third option, Styles, offers even more nuanced genre selection.
The jukebox also provides instant access to the MusicGiants online store, which offers an easy way to buy and download music. And, unlike iTunes, which uses lossy digital compression, MusicGiants uses the WMA Lossless format, so the fidelity isn't compromised. Every Qsonix system ships with an established MusicGiants account and a $50 credit to welcome you to the store. MusicGiants also sent me their Gold Concierge package ($995), which includes a broad mix of 500 songs plus $300 in store credit. The collection arrives on a hard drive that imports rapidly into the jukebox and is a terrific way to instantly build a music library.
The QJB110 also has some iPod functionality, with the ability to transfer any or all playlists to your Pod for music on the go. Once your player is connected, the jukebox checks it for existing tracks and then transfers the new music. Each playlist can be set individually to transfer at quality levels ranging from 128 kbps to uncompressed WAV format.
The included IR remote is extremely limited. Outside of volume adjustment, it offers only the most basic transport commands. The control-via-IP feature, which let me operate the machine wirelessly from my laptop in a manner similar to the onscreen interface, was far more useful.
The jukebox produced better than expected bass and clear mids and highs, and it played really loud. But its five-speaker array - a pair of 1-inch tweeters, dual 5 1?4-inch mids, and a 10-inch sub - isn't audiophile-quality since the drivers don't provide the separation or the sonic detail of a standalone speaker system. Also, the fans on my unit were very loud, to the point where I turned off the jukebox whenever I wanted to watch TV. Qsonix says that the change to Crest amplifiers and the use of quieter fans has greatly reduced the noise.
The jukebox offers a ton of exciting features, and Qsonix plans to add Internet and satellite-radio support by the end of the year. If you like this server's features but plan to use an existing audio system, the Q110 ($6,795) has identical functions but is packaged as a standard A/V component with a separate 15-inch touchpanel.
BOTTOM LINE
If it's not totally obvious by now, I love the Qsonix QJB110 jukebox. It was incredibly fun to live with, and my family used it every day it was in our possession. If you have the room - and budget - for a jukebox, this will be a terrific addition to your home. My wife summed up our feelings about the Qsonix when she said, "I'll really hate to see this go."