Q, Star Trek: The Next Generation - Redemption and Smiley's People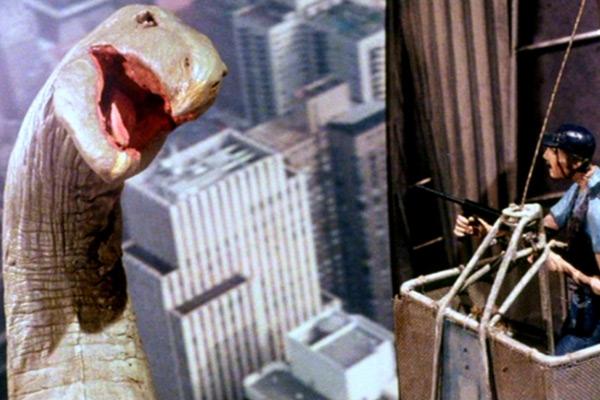 I'm so glad that specialty labels like Shout! Factory exist, as they continue to uncover lesser-known gems such as
Q
, which will no doubt play as quite the curiosity to viewers used to the lightning pacing and slick CGI of modern creature features.
Next Generation
enthusiasts can look forward to an affordable serving of high-def Klingon goodness, while John le Carré's hero George Smiley makes a triumphant return.
Q (Shout! Factory)
Deliciously cheesy, remarkably engaging and wonderfully nostalgic to the early '80s, writer/producer/director Larry Cohen's grindhouse-ready Q (also known as Q: The Winged Serpent) was largely overshadowed in a year when other genre releases included E.T., Star Trek II, Conan, Blade Runner and The Thing. But which of those other movies featured an Aztec dragon wreaking havoc upon Manhattan?
The story follows a small-time crook (Michael Moriarty in a bravura performance) who stumbles upon the nest of the deadly, flying Quetzalcoatl. This bit of information makes him a very big deal, as the police need to track down the beast before the body count of innocent New Yorkers rises. The script is remarkably smart and original, while the urban locations and David Allen's stop-motion animation that brings Q to life have a real bygone charm.
Shout! Factory's HD master here (this disc actually arrives on their clever "Scream Factory" horror label) is a welcome improvement over the two previous DVD releases, although understandably less-than-stunning. New for this release is an audio commentary with the still underappreciated Mr. Cohen.
Star Trek: The Next Generation - Redemption (CBS/Paramount)
As Paramount furthers their ambitious and well-received high-definition remastering of all seven full seasons of Star Trek: The Next Generation, they also continue to issue "sampler" releases for the more casual fan who might balk at the larger, more expensive sets. "Redemption" was the popular two-part Season Four/Season Five cliffhanger that found Lt. Worf (Michael Dorn), the U.S.S. Enterprise's resident Klingon, torn between his commitment to Starfleet and his family honor when civil war breaks out on his homeworld. Turns out that Worf's family was unfairly disgraced some years ago, and recent events might just give him a shot at restoring their name. The stakes are high for all involved, with a big surprise in store.
This single platter carries an audio commentary by original episode talent/experts Ronald D. Moore and Mike & Denise Okuda, a featurette and the vintage promo spots, as well as an UltraViolet Digital Copy for enjoyment from The Cloud.
Smiley's People (Acorn Media)
This 1982 follow-up to the small-screen Tinker Tailor Soldier Spy gives viewers another chance to see the eminently capable, ever-understated George Smiley (Sir Alec Guinness keeping the world safe during the paranoid years of The Cold War. He's the retired head of espionage for the British Secret Intelligence Service, and when a former Russian informant dies suddenly and mysteriously, Smiley is called upon to make sense of it all. But the truth is more complicated and much more portentous than anyone suspected, playing out over more than five hours across all six episodes, presented uncut and uncensored in this two-disc set. The supporting cast packs a few familiar faces too, including a young(ish) Patrick Stewart.
More than an hour of deleted scenes are presented among the supplements, a real find for a TV miniseries three decades old, alongside an interview with author John le Carré', as well as a biography and bibliography, glossary and production notes.