Putting a PC in your HT
Computers are everywhere, from our desktops to our phones to our planes, trains, and automobiles. If we look at movies like
I, Robot
(strictly from a conceptual standpoint, not a why-did-Hollywood-ever-make-this standpoint), there is a possible bleak future ahead of us. I prefer to look at
Star Wars
, where machines help, even if they can be annoying know-it-alls. Granted it's not our galaxy, but it is a lot more fun to watch than
I, Robot
(no disrespect to the Fresh Prince). What better way is there to improve your home theater experience than the addition of a PC? But what should you look for when setting out to buy one?
Storage

Hard drives are where information is stored. They are available as either internal or external units and come in many sizes. The number of gigabytes (GB) it can hold denotes one's size. The more GB on hand, the more information it stores, and the more it costs. Most HTPC's start with at least 80 GB, and some companies allow customers to upgrade the size before purchasing. The primary thing to look for with storage space is expandability after purchase. Some manufacturers include drive bays that accept company-specific, removable hard drives. These are great because they offer easy expandability while keeping the extra hard drive out of sight in the drive bay. If this is not an option, you still have the ability to buy an external hard drive that can connect with a USB cable. This is not as neat as using a drive bay, but it gets the job done.
Tuners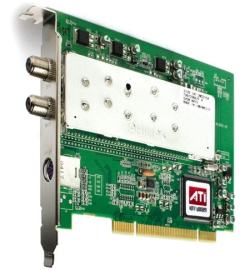 What would a home theater be without television? HTPCs with included tuners allow you to connect an antenna—or two—to the HTPC for watching television broadcasts. Some allow you to connect a satellite or cable box, as well, although usually only via RCA connections. (Make sure to check for this if you already have a box.) The big news is that HTPCs may also include an ATSC tuner for over-the-air high-definition television. With a hard drive, these broadcasts (both NTSC and ATSC) can be recorded. Just make sure you have a big hard drive—the HD recordings can take up a lot of space.
DVD
The main question to ask when it comes to DVD drives is, "Does it come with a DVD player or a DVD burner?" The burner acts as a player but also allows you to make your own DVDs. If you want to transfer your home videos onto a DVD, make sure to purchase an HTPC with a DVD burner. The DVD drive will also be able to play DVD-Audio discs and CD's.
Ins and Outs
An HTPC isn't worth anything if you can't connect it to your home theater system.
What you find on a pre/pro or receiver for audio and video connections generally shows up on an HTPC, with a few possible extras. FireWire (IEEE 1394) and USB are important for connecting further equipment, such as digital cameras and printers. Card readers are another possible option for accessing flash memory. Finally, what connections are available for the Internet? If you have DSL or a cable modem,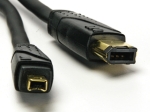 look for an HTPC with Wi-Fi or at least an Ethernet connection. Being able to connect to the Internet is important for updating software with patches. Sometimes you can find these connections on the front of the unit, making access easier if you plan on changing the connections often. For more information on connections check out video editor Geoff Morrison's Connections 101 article in our Hook Me Up column.
Bundled Software
Companies often include software with the computers they sell. Programs to look for in an HTPC include DVD burning software (if a DVD burner is included), editing software to edit your home movies, and a virus-protection program. The virus protection is critical if you plan on connecting to the Internet.
In Conclusion
The flexibility of HTPCs are making them desirable pieces of home theater equipment. While these are far from all the parts that make up a home theater personal computer, they are important considerations when shopping for one, and figuring out what you want to do with your HTPC will further help to narrow your choices.
LATEST VIDEO