Puro Sound Labs at CES Saving the Hearing of the Youngest Audiophiles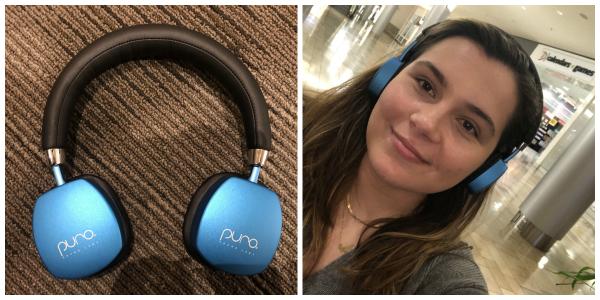 Just because listeners are young, their age shouldn't exclude them from high-quality audio. More significant, though, they should be even more concerned about protecting their hearing than adults. Puro Sound Labs has made it their mission to protect young ears, and they are at CES showing off their latest ANC, volume-limiting headphones for kids and young adults.
Puro Sound Labs was created after a very personal experience for one of the founders, Dave Russell. His 18-year-old daughter, pictured above, was diagnosed with Noise-Induced Hearing Loss from listening to headphones that were too loud for too long. He decided that something needed to be done, and set out to create headphones that limited the overall listening volume while still sounding good.
Following the success of their BT2200, Puro Sound Labs just announced the new PuroQuiet headphones with ANC and Bluetooth 4.0. The ANC reduces outside noise by up to 22 dB, and the headphones themselves block up to 82% of sound passively. These work together to encourage lower listening levels because the music doesn't have to overcome outside distractions. The headphones have two microphones - one to work with the ANC and one that lets kids make phone calls through the headphones.
Before you rule these out as "toy" headphones, it should be noted that these were tuned to create a really good sound. Puro Sound Labs has been working on creating an accurate frequency curve following guidelines from Dr. Sean Olive from Harman. The sound is limited digitally to a maximum of 85dB, the recommended maximum safe volume determined by Hearing Health Foundation, OSHA, World Health Organization, American Speech Pathology Association, etc.
The PuroQuiet will play wirelessly for up to 22 hours, or up to 16 hours with ANC activated. One thing most of us don't consider with youngsters is that added safety of wireless headphones for kids - less chance of getting tangled up in cables. Other kid-friendly features are a durable aluminum headband and durable leather earcups and a folding design for transporting.
"Studies show that listening to music above 85dB for extended periods of time can cause permanent hearing damage, and the louder the volume, the quicker the damage can occur," noted Puro Sound Labs founder and CEO, Dave Russell. "Puro Sound Labs was created to address the world health epidemic of Noise-Induced Hearing Loss after my wife and I became aware that our daughter had hearing damage at a young age, likely as a result of listening with her headphones too loud. We want kids to enjoy great-sounding music, but we also want to be sure that they are listening at safe levels. We're excited to extend the performance level of our Healthy Ears products with Active Noise Cancellation for even great ambient noise reduction and improved sound quality."
Puro Sound Labs takes protecting young ears seriously. They also have the PuroCalm earmuff hearing protectors to block sound in noisy environments - concerts, sporting events, fireworks displays, etc. They've partnered with KultureCity and have donated over 2,000 of the PuroCalm to the charity. KultureCity provides them to sensory-sensitive children in over 200 venues to let these kids enjoy themselves without the sensory overload that loud noises can cause.
The PuroQuiet are available now for $199.99 and the PuroCalm are available for $19.99. For every pair of PuroCalm that are sold, another pair will be donated to KultureCity.