PRO's Latest Speaker Is a 3-in-1 Marvel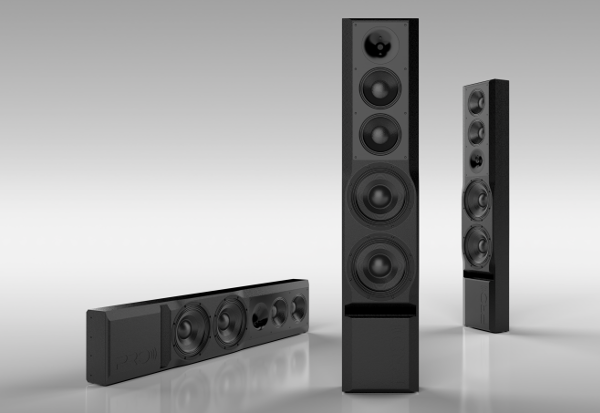 Pro Audio Technology (PRO), the Lake Forest, CA-based company specializing in professional-grade high-end speaker systems, has developed a super speaker that can fill the roles of three speakers at once.
Hailed as the most "acoustically ambitious and flexible loudspeaker" the company has ever created, the new SR-28212ai mates a 1.7-inch compression tweeter with a pair of beefy 8-inch midrange drivers and two 12-inch subwoofers in a cabinet 14 inches wide and only 6 inches deep. The speaker is available through custom installers for around $10,000 and is the first product to use PRO's Theorem Waveguide, built to deliver "text-book on- and off-axis dispersion of critical high frequencies."
"By leveraging the bass-management capability of our ALC model amplified loudspeaker controllers, a single SR-28212ai system can serve as a full-range surround loudspeaker [for LCR or surround applications], an auxiliary LFE [low-frequency effects] subwoofer, and a surround-speaker subwoofer simultaneously," explained PRO president and chief product designer, Paul Hales. "There is no need to buy or locate separate subs."
Standing just over 5.5 feet tall, the speaker is a robust and highly efficient tri-amplified design built for high-output applications that demand unrestricted dynamics: The woofers boast 4-inch voice coils and a rated sensitivity of 102dB, while the mids clock in with 106dB sensitivity and 2.5-inch voice coils. Tweeter sensitivity takes the prize, though, with a rated sensitivity that tips the scales at 108dB. Maximum output for the system is spec'd at 130dB, which is loud (think jet engines).
The SR-28212ai can be flush mounted flat on a wall or angled using pivoting brackets, and is available with a straight-firing axisymmetric waveguide for its tweeter or an asymmetric waveguide that directs high frequencies at a 40-degree angle; the asymmetric waveguide can be rotated in 90-degree increments to fire left, right, up, or down and is ideal for depth-constrained situations where speaker cabinets can't be angled.
Adding to the speaker's installation flexibility, the mid/tweeter module can be inverted to either lower the tweeter or locate it in the center of an enclosure that is mounted horizontally; this can be done with either a 0- or 40-degree waveguide. Yet another option is to invert the mid/tweeter baffle and mount the speaker upside down so the subwoofer section is near the ceiling in Dolby Atmos or other surround-with-subwoofer applications.
For more information, visit proaudiotechnology.com.