Plex Media Server Gets Movie Trailers and Extras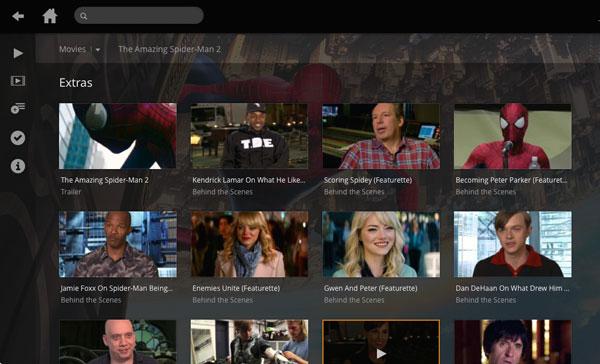 Just a few months after the
the big update of the Plex media streaming app and player
, the company is at it again. This time, Plex is following the lead of high-end home-theater media servers by adding the option to play movie trailers before playing the chosen movie title. The new version also adds extra behind-the-scenes video shorts, and the ability to create video or music playlists. This time, the update has squashed the bugs that plagued its March update and is fulfilling the promise of earlier added features as well as delivering on the new.
Plex offers a choice of watching from one to five trailers before the film starts. You can also choose whether the trailers are of the unwatched movies in your library or only unwatched movies similar to the currently chosen title. Plex Pass subscribers can choose to watch trailers of upcoming theatrical releases or upcoming Blu-ray and digital releases. The trailers are supposed to match the mood of the chosen movie. A trailer for the Cesar Chavez played before Pearl Harbor, and Son of God, which is slated for theatrical release in 2015, appeared before The Amazing Spider-man 2. Because I haven't been to the movies recently, and my Dish Hopper skips commercials, I'm happy to see trailers of upcoming titles I might like.
"Extras!" have been added in the recent update. These extras include behind-the-scenes interviews with actors, directors, musicians and others who have insight to share about the movie. Plex has sourced these videos from a licensed online provider. While older titles may have only a trailer available in the extras, a new movie like The Amazing Spider-man 2 has ten.
Previously, users could add movies to a queue for future viewing but could not save more than one queue. Now, movies or music can be added to separate playlists. I'm using this feature to create playlists for comedies, action-adventure movies, and dramas. This way, I can easily find an unwatched movie to fit my mood. Of course, playlists could also be used to create a back-to-back movie marathon. Music playlists can be imported from iTunes with a single click.
The ability to share libraries with friends or family was one of the features added earlier this year. With the recent update, this feature is working beautifully. I have a friend who has a large movie and TV library. He sent me an invite to share his server and I can now stream his titles to my computer, Android phone, iPhone/iPad, and to the Plex apps on my various media players—including Roku, Fire TV, Google TVs and many more. Streaming quality depends on the speed of my Internet connection and the speed of the upload from my friend's computer. In my experience, quality and reliability was much better when streaming to a small screen like my iPhone, iPad, or laptop compared with streaming 1080p to my TV.
Although Plex still has a few bugs to fix and could do a better job of explaining how to use many of its features, it has come a long way this year. No other app or device that streams downloaded media libraries (other than custom media servers) can create a home-theater experience as rich as Plex.