Pioneer's eco-nnected new receivers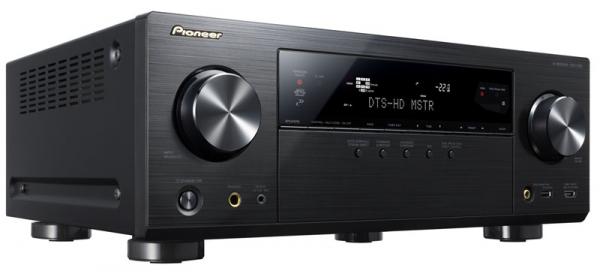 It's kind of amazing that a component that hasn't changed much outwardly for 20+ years can change so much internally in the course of just a couple of years. I'm talking about Pioneer's surround-sound receivers, which I first encountered in 1989 ... and which still looked almost exactly the same when I walked into the demo room at the company's Long Beach, Calif., headquarters last week to check out its four new affordable models.
But they don't work the same. The new receviers, priced from $249 to $599, are even more packed with technology than the generation they replace. Fortunately, though, Pioneer's taking some steps to help consumers deal with all that complexity.
There's a lot to talk about with these receivers, but I'll start with the feature that most impressed me: The standby power draw of the new models is just 0.1 watts. That's probably less power draw than that cell phone charger you leave plugged in all the time. Even a real eco-nut like me can leave these plugged in all the time without worrying about "power vampires."
All four of the new VSX models-the $249 VSX-523-K, $429 VSX-823-K, $529 VSX-1023-K, and $599 VSX-1123-K-can pass 4K video signals and offer HDMI Standby Through, so your TV can still grab a signal from, say, your cable box even if the receiver's not turned on. (You can set the Standby Through to work with a particular source all the time, or the last selected source.) All models offer an MHL 2.0 connection, and on all but the entry-level VSX-523-K that connection will work with the Roku Streaming Stick. "It's not Roku-certified because the low power draw prevents that, but it does work with the Stick," Pioneer's Chris Walker said.
Because "Entry-level receivers are affected by the soundbar business," as Walker put it, there's a new focus on multiroom capbility. The 7.1-channel VSX-1023-K and VSX-1123-K can both repurpose their rear surround channels to supply audio in a second zone. The multiroom features can be controlled by as many as four mobile devices at once, giving these receivers a taste of Sonos-like functionality.
Pioneer has also added greater file compatibility, including AIFF and Apple Lossless capability as well as the ability to play files up to 24/192 resolution. (Walker pointed out that the MCACC automatic room correction technology included in all of these receivers can operate at 24/192.)
All but the bottom model, the VSX-523-K, include Apple AirPlay and HTC Connect capability. The former, of course, provides wireless connectivity with Apple devices and any PC running iTunes. The latter, according to Walker, connects wirelessly with any Android phone, not just HTCs.
All but the top model are rated at 80 watts per channel, with the VSX-1123-K rated at 90 watts per channel. (That's a 0.5 dB headroom increase, if you're counting.) Those are the FTC 20 Hz to 20 kHz, 8-ohm ratings; the "marketing ratings" taken at 6 ohms/1 kHz are 140 and 165 watts, respectively.
Most models will be arriving at stores this week. A new line of SC-series receivers with improved amplifiers is slated for later this spring.
Check out the accompanying photo gallery for back-panel shots of all the receivers and a few more details on the receivers' operation.