Pioneer at Work: Steven Wilson's Amazing Live Surround-Sound Experiment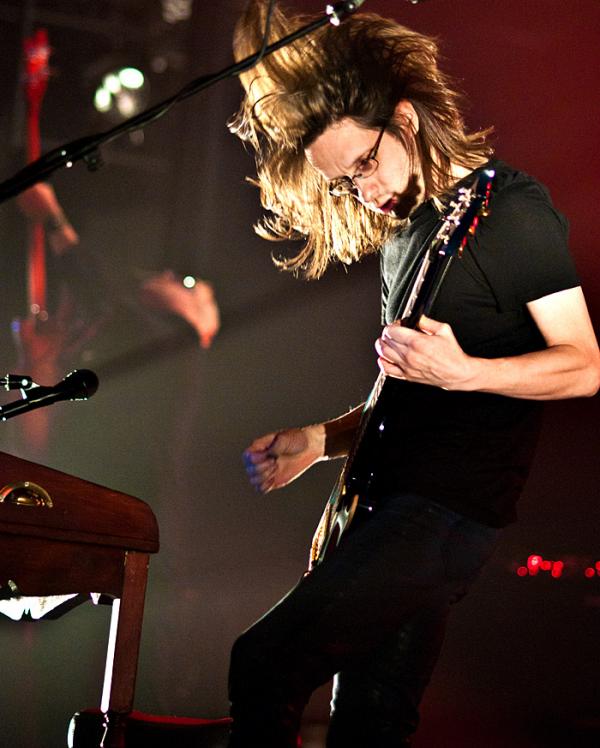 Surround-sound guru Steven Wilson has upped the ante yet again on his Grace for Drowning solo tour by presenting the music itself in surround sound, an unprecedented feat. Well, ok, technically speaking, the show is in live quad, with two speakers placed in the back of the venue at hand. And, yes, as we discussed extensively in our recent Immersive coverage, Pink Floyd and Roger Waters have themselves been presenting concerts in live quad since 1967 (and some Floyd tribute bands have attempted it as well). But those all-encompassing mixes have been more about showcasing effects — crashing planes, shuffling footsteps, chiming clocks, maniacal laughter — than the music that's being played. In Wilson's case, actual live instruments and live vocals, in addition to carefully chosen prerecorded layered vocals, is the information that appears in the rear channels. I've attended well over a thousand concerts in my lifetime, and I've truly never heard anything like it before.
I saw two SW gigs this past weekend — the first at the Best Buy Theater in New York City on November 11, the second at the Temple Performing Arts Center in Philadelphia on November 12 — and I broke a personal rule by leaving my earplugs in my pocket for both shows so I could get an unfiltered aural experience. I never regretted that decision for a second. During the Best Buy soundcheck, I was the only one in the audience as Steven and his ace band — drummer Marco Minnemann, bassist/Stickmeister Nick Beggs, flautist/saxophonist Theo Travis, keyboard wiz Adam Holzman, and late-addition VIP guitarist John Wesley — started things off by powering through the build-to-a-pummel-then-back-then-up-again Insurgentes track "No Twilight Within the Courts of the Sun" in 21/8 time. And Steven's mechanically Vocoded vocals during the chorus for "Index," probably my favorite track from Drowning, had deeper impact with their rear-channel punctuation, ably supplemented by choice keyboard and bass fills.
At both shows, rear placement of key vocal harmonies during "Sectarian" and most especially "Postcard" were mindblowing, to say the least. It was also interesting to see audience members turn and in some cases jerk their heads around, trying to identify where the music was coming from. One Best Buy attendee, upon realizing what was happening, wandered over to where the rear right speaker was placed on the floor and stood under it the rest of the night.
I stood dead-center in front of the soundboard at the non-seated Best Buy show, so I missed some of the visual presentation — alas, the perils of being 5'9'' — but I caught everything from my sweet-spot perch at the sitdown Philly show. Longtime SW collaborator Lasse Hoile's evocative visuals caressed the tapestry that stayed up in front of the band for the first quarter of the show, then ruled on the rear screen for the duration. The evening was a complete A/V spectacular, like no other concert you'll see.
If you want to catch Steven on the last few dates of this tour leg, I strongly suggest you do so. And please come back to the S+V site tomorrow for an exclusive video interview I conducted with Steven backstage before the Philly show, in which we discuss the choices he had to make to present this material accurately, some recent surround-sound releases he's shepherded, and his thoughts on what he might do next.