Pioneer Elite ES-DV1000 Home Theater System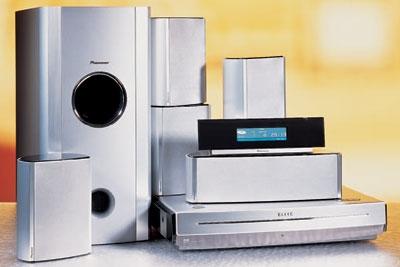 Photos by Tony Cordoza The Pioneer Elite ES-DV1000 will grab your eyes as much as the DVD movies it plays will. Its sophisticated electronics are hidden inside a beguilingly simple and elegant brushed-aluminum and gray cabinet. There are only three control keys atop the combo universal player (it handles DVD-Audio/Video, Super Audio CD, and more) and AM/FM tuner: one for power, one to open and close the disc drawer, and one to open and close the front-panel door. Even opening the door reveals only volume, tuner, play/pause, and stop keys plus a mini headphone jack. A bright blue LED bar glows over the disc drawer when DVD/ CD playback is selected. Pioneer banished the obligatory display from the player/tuner to a separate, standalone panel tethered by a 5-foot cable. This enables great placement flexibility. The ES-DV1000 merits no ordinary LED, LCD, or fluorescent display. It informs you with a bright, blue-and-white organic electroluminescent (OEL) display that has much higher resolution than commonplace displays and allows for nifty animations. Although the face of the panel is 9 x 2 1/2 inches, the display itself is only 3 x 1 inch.
Fast Facts
KEY FEATURES • Plays DVD-Video, DVD-Audio, SACD, DVD-R/RW, CD-R/RW (including MP3 files) • Dolby Digital/DTS decoding; DPL II processing (Music and Cinema modes) • High-resolution animated organic electroluminescent (OEL) display
DRIVER COMPLEMENT satellite speaker, 1-inch tweeter, 3 1/2-inch midrange; subwoofer, 7-inch driver
ENCLOSURES satellite, sealed; subwoofer, ported
RATED POWER 60 W x 6
INPUTS/OUTPUTS DVD player/tuner 3 composite/S-video, 4 stereo analog audio, and optical and coaxial digital audio inputs; component-video (switchable between interlaced and progressive-scan), 2 S-video, 2 composite-video, optical digital audio, stereo analog audio, and headphone outputs satellite spring-clip terminals subwoofer spring-clip output terminals
DIMENSIONS (WxHxD) DVD player/tuner 15 1/2 x 3 x 12 1/4 inches display panel 9 x 2 1/2 x 1 1/2 inches L/R front and surround satellite 4 3/4 x 6 1/8 x 3 3/8 inches center satellite 10 5/8 x 3 1/8 x 3 3/8 inches subwoofer 7 1/2 x 15 1/2 x 17 1/4 inches
WEIGHT DVD player/tuner, 6 3/4 pounds; display panel, 1/2 pound; satellite, 2 5/8 pounds; subwoofer, 29 3/4 pounds
FINISH brushed aluminum and gray; gloss-black end caps on satellite speakers
PRICE $2,000
MANUFACTURER Pioneer Electronics USA, Dept. S&V, P.O. Box 1540, Long Beach, CA 90801; www.pioneerelectronics.com; 800-746-6337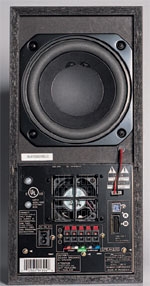 The semicircular satellite speakers continue the design statement with brushed-aluminum enclosures, high-gloss black plastic tops and bottoms, and silvery cloth grilles. The center speaker is similar but elongated for horizontal placement - it's shallow enough to fit atop most TVs. All five satellites contain dual keyholes on their backs for easy vertical or horizontal wall mounting.
The subwoofer stands about knee high to the average interior decorator, with a silvery-gray enclosure. Besides the shiny chrome-ringed port in the middle, a smaller port on the bottom serves (in conjunction with a cooling fan on the rear), as a vent for the system's amplifiers, all of which are inside the sub. On the back is the exposed woofer cone along with the two jacks that connect the sub to the player/tuner and the five sets of spring-clip speaker outputs. The system arrives in three cartons and connects fairly easily thanks to the three 15-foot lengths and two 30-foot lengths of color-coded speaker cable Pioneer supplies. Only the subwoofer plugs into an AC power line. It connects to the player/tuner by a pair of thick, multipin cables.
LATEST VIDEO