Pioneer AVR with B&W Speakers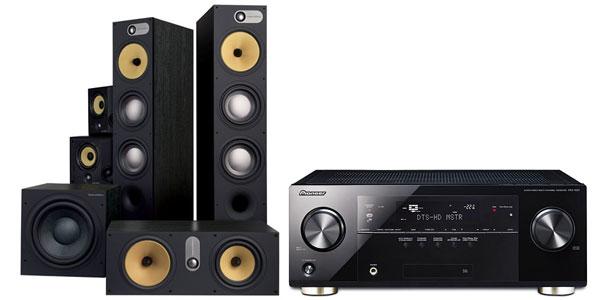 I have the following system:
Pioneer VSX-1021 A/V receiver
B&W 600-series speakers (683 front L/R, HTM61 center, 685 bookshelf surrounds, ASW610 subwoofer)
Oppo BDP-93 Blu-ray player
Sonos wireless audio system
Sony 55-inch XBR TV
All in all, the sound is outstanding, and the image of Blu-ray discs is also amazing. However, a friend says the overall setup is not balanced—in particular, the receiver is cheap compared to the other elements. I do not have much space for a higher-end receiver, so is there any other solution? Is this setup really unbalanced, since it sounds great to me?
Ricardo Monnerat
First and foremost, if the system sounds great to you, that's all that really matters. Having said that, the AVR is, in fact, somewhat underpowered for your speakers, which are all rated with a nominal impedance of 8 ohms. The 683 can handle up to 200W, the HTM61 can handle up to 150W, and the 685 can handle up to 100W. According to our measurements of the VSX-1021, with five channels driving 8-ohm loads, it reaches a distortion level of 0.1% at 46.1 watts and 1% at 56.7W; with seven channels driving 8-ohm loads, it reaches 0.1% distortion at 44.5W and 1% at 53.7W.
On the other hand, the B&Ws are reasonably sensitive—the 683 and HTM61 are rated to output 90dB SPL at a distance of 1 meter with an input of 1W, while the 685 outputs 88dB SPL under the same conditions. So in the end, I think your AVR is fine—and, as I said to start with, if you enjoy the sound, that's what counts.
If you have an A/V question, please send it to askhometheater@gmail.com.