Pioneer adds new lower-priced Class D A/V receivers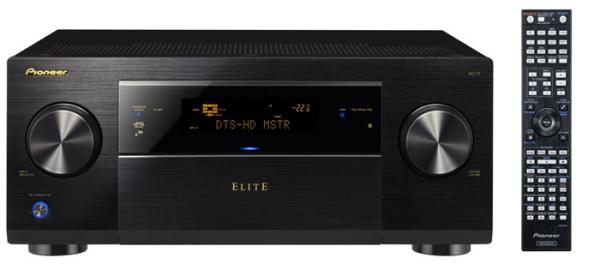 Hot on the heels of its new midpriced receivers, Pioneer today announced two new 7.2-channel receivers for its high-end Elite line. The new receivers use the same Class D3 amp technology as the other Elite receivers, but at lower prices: $1,100 for the new SC-71 and $1,400 for the SC-72. That's considerably less than the company's previous most-affordable Elite, the $1,650 SC-65. SC-65, $1,650
Class D (often referred to as "digital" or "switching" amps) are more efficient than the more commonly used Class AB amps. The amplifier's output transistors are either on or off, so they're never in the "in between" state where they produce lots of waste heat that has to be removed through a heat sink. As a result, they also run cooler. While Class D amps are common in things like TVs, soundbars, and AirPlay/Bluetooth speakers, they're rare in A/V receivers because making a high-output Class D amp with good sound quality and low radio-frequency emissions is challenging. So far, Pioneer's Class D3 Elite models are the only Class D receivers to earn THX certification, although the new SC-71 and SC-72 are not THX-certified.
The SC-71 is rated at 150 watts per channel into 6 ohms with two channels driven. For the SC-72, it's 170 watts under the same conditions.
Of course, Pioneer added some more goodies to the new models. Most notable is that they can play DSD files and high-resolution AIFF and Apple Lossless files. File resolutions up to 24-bit/192-kilohertz are supported. They also feature AirPlay for playback of files from iOS devices (iPhone/iPad/iPod touch) plus iTunes-equipped computers, and HTC Connect3 for streaming from Android devices. Pandora and vTuner Internet radio are built in. (WiFi is not built in; you'll need a wired Ethernet connection or the optional AS-WL300 wireless adapter. You can also add an optional Bluetooth adapter.)
Both can pass Ultra HD 4K video signals and also upscale lower-res signals to 4K. Both can be controlled by iOS or Android devices through free apps.
Extensive multiroom capabilities are available on both: three zones for the SC-71, four for the SC-72. The internal amplifiers can be reassigned to provide power for Zone 2. The SC-72 also adds bass, treble, and balance control plus a subwoofer output for Zone 2.
Both are slated to ship next month. More info here.