Philips MX6000i Wireless Home Theater System
HTIB goes Wi-Fi.
In case you're just joining us, there's a whole new world of entertainment material to be enjoyed in your living room, beyond what you'll find in your DVD rack or emanating from your cable/satellite feed. Many folks like me are amassing quite a large collection of music, videos, and photos on the PC, and that there Internet has a lot to offer, too. The convergence of PC and home theater is certainly nothing new, but, until now, this union has been attainable only through a series of clever add-ons (not the first marriage to benefit from the use of electric appliances). What if the connection to the computer—and its many perks—was an integral part of your home theater gear, and it was wireless to boot?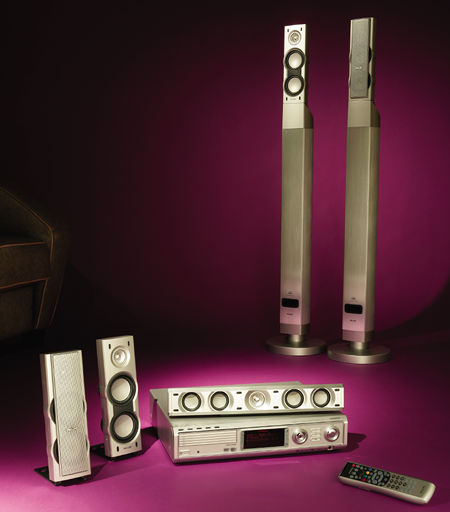 The Setup
The latest product in Philips' Streamium line is their complete MX6000i home-theater-in-a-box system. The MX6000i sets itself apart from the HTIB pack with a uniquely designed main DVD/receiver unit that incorporates an LED display to better control the sophisticated home-networking functions. The MX6000i operates either wired or wirelessly and communicates with a PC and/or a router via Ethernet to access content locally or on the Internet. When I installed the unit in my system, it automatically searched for and connected to my Linksys 802.11g router and identified it by name. If your system is not otherwise Wi-Fi-ready, though, the MX6000i comes bundled with a PC Link Wireless USB Adapter 11g, a computer dongle that allows the MX6000i to communicate wirelessly with your computer. I installed this accessory, just to try it, and it worked much the same as my router. The DVD/
receiver located the PC Link with minimal involvement on my part, although the included driver CD was a little outdated. Should the DVD/receiver not find the Internet access point automatically, you can enter the necessary network data (DHCP or Static IP, Proxy Server or no) via the remote control, which makes for a slightly tedious procedure. Once established, subsequent connections are quick and easy.
Another CD loaded the simple Media Manager software on my PC to organize my music and video files, importing title and artist info, which the MX6000i displays on the TV in a basic user interface. Next stop was My.Philips.com, where I selected my preferred music sources from among Radio Free Virgin, PlayhouseRadio.com, LAUNCH Music on Yahoo!, and more, all for free. I also had the option to enter account information for Live365.com, MusicMatch, and Andante services. BornToShoot.com provides free photo content, while Yahoo! Photos allows free photo sharing and offers printing for a fee. LAUNCH, Yahoo! Movies, and IFILM all provide complimentary video content, consisting of music videos and movie trailers. PhilipsGames also serves up ten familiar diversions at no charge, including everything from Blocks to Bricks to Yahtzee. Nope, there's no Halo 2 to be found; but, then again, I wouldn't relish playing that game via the remote control; I would want a more elaborate controller. From My.Philips.com, you can also schedule automatic product firmware upgrades, although you must hardwire the unit for such software updates, either in a wired home network or with a temporary wired connection (i.e., disconnecting the main unit and lugging it to the nearest RJ-45 cable). Future upgrades will add new features, such as compatibility with Windows Media Audio and Video. And, before you step away from the keyboard, you might need to adjust the Firewall settings on the connected PC to allow the Streamium HTIB to function properly.
Speaker hookup is fairly traditional, with one obvious exception: The MX6000i includes not one but a pair of tall, thin, front-ported subwoofers that double as speaker stands. In an ingenious design, the subs dock with the left and right satellites so that the double speaker cables (all color-coded) attach only at a single point at the base of each silvery monolith. The cables deliver the amplified low-frequency and main signals, which are distributed to the appropriate loudspeaker. Granted, this configuration does limit your subwoofer-placement options, especially since they look pretty weird without one of the four matched satellites sitting on top. Together, they achieve a sort of tower-speaker effect for a mightier front soundstage. Of course, the subwoofers can turn the surround channels into low-end stalwarts, as well. The component video output is inactive by default, and you must select it via the instructions on the front-panel display. A hard switch on the unit's rear panel sets progressive scan.
Living Room, Meet the Internet
Despite the simplicity of the games, they can be rather slow to load. More than once, I was turned away due to "high network activity." I assume this referred to Internet traffic, since I was the only person using my network at the time. Music selection was generally good, but the limited bit rate made for sometimes-poor sound quality. The 100-plus LAUNCH music videos (Depeche Mode!), mostly recent, are encoded in MPEG-4 that streams at a default 350 kilobits per second; you can adjust this to 150 or 700 kbps, in either a full-screen (4:3) or a smaller window. It looks pretty sharp for streamed MPEG-4 on a big screen, and the sound quality is excellent. The movie trailers I found didn't look very good; they were blocky and unpleasant.
DVDs play remarkably loud for the system's 450 total watts (RMS), although not so loud that I could recommend the MX6000i for larger rooms. The plastic/metal speakers can distort at high volumes, and the limited dynamic range they deliver can make for an artificial sound when cranked high. I noticed an intermittent loss of the right surround channel; once I rewired the speakers, though, I found that this was due to a problem with the DVD/receiver. Video performance was a mixed bag: The MX6000i often reveals little nuance of any sort. The picture frequently looked washed-out on a variety of reference discs, and the level of detail discernible in the blacks was merely mediocre. Working with the Faroudja/Sage demonstration DVD, I found blatant flashing rainbows on both the test pattern and the photo material, evidence of not-so-good luma/chroma separation. I saw pronounced jaggies on both the test pattern and actual video clips, as well as significant flicker, which indicates inadequate deinterlacing. Flicker and outright picture distortion marred the 3:2-pulldown test, although feathering of text in the mixed-content portion was passable.
Kudos to Philips for making a Wi-Fi home-theater-in-a-box system that works whether or not you already own any Wi-Fi gear. Wireless technology is intended to be simpler. The irony is that a lot of work is required to make something easy, and I did hit several minor but frustrating snags on the way to realizing the MX6000i's full potential. Those problems aside, operation was quite slow. Philips' forward-thinking HTIB does all it promises, but its zippy 802.11g capability stands in contrast to an otherwise sluggish demeanor.
Highlights
• A complete home theater package with built-in Wi-Fi
• Digital music, videos, and photos from the Internet or your home network, plus games
• Progressive scan, Dolby Digital, DTS; the usual suspects are all here