Philips iPronto Wireless Home Control Panel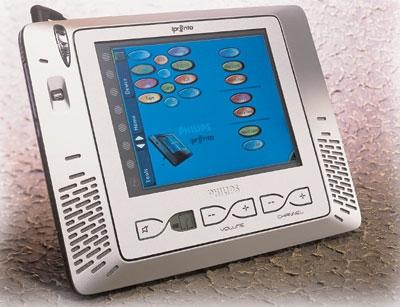 Photos by Tony Cordoza Electronic program guides (EPGs) that help you choose what to watch from among hundreds of channels are built into a variety of devices from TV sets and set-top boxes to satellite receivers and hard-disk recorders. What they have in common is an onscreen display that, if it doesn't cover the TV picture, reduces the show to a small window. But now Philips has chosen to unfetter the EPG from the TV set altogether and put it on a touchscreen called iPronto that you hold in your hands just like print listings. Unlike print, though, when you touch an icon next to the title with your finger or with the supplied stylus, the channel actually changes. Moreover, the listings are never obsolete thanks to a daily data dump, which happens automatically and wirelessly through your Wi-Fi (a.k.a. 802.11b) home network and broadband Internet connection. And when you're not checking to see what movies will be broadcast on Saturday night, you can use iPronto to browse the Web. Clearly, this is a lot more than a remote control. At $1,700, it had better be.
Weighing 2 pounds, the iPronto looks like a tablet PC that's been sawed in half. Stereo speakers, currently used only for audible cues like stylus taps, flank the 6 1/2-inch VGA (640 x 480-pixel) screen. Eight soft buttons, aligned vertically in a touch strip at the left side of the screen, call up a full-screen remote control, the EPG, a quartet of remotes each occupying a quadrant of the screen, four favorite Web sites each occupying a full screen, and the iPronto's Web portal. Hard buttons to change channels and adjust volume are in a row below the screen along with a small LCD showing an analog clock face, a battery-depletion bar, and an icon to indicate a Wi-Fi signal.
A power button, scroll wheel, headphone jack, and holder for iPronto's 4 1/4-inch-long stylus are built into the upper left corner. Although there's a microphone, a USB port, and a slot for an MMC or SD flash memory card, Philips says none of these features have been implemented in the first release of the iPronto software but are meant for use in future versions. On the backside is an H-shaped pullout stand for positioning the touchscreen like an easel. It's wide enough so that the 9 1/2 x 7-inch iPronto can sit snugly on your thigh at a 60° angle when you're on the couch. Packed in the box is a rechargeable battery, AC power adapter, and wireless LAN adapter. The battery fits in a compartment under the stand, and the wireless PC card slides into a side compartment.