Philips 64PH9905 Rear-Projection HDTV
The Philips 64PH9905 rear-projection HDTV is like a Weeble— it wobbles, but it doesn't fall down.
"Timber!" was the first word out of my mouth as we rolled Philip's high-definition television into our evaluation room. I could have sworn the TV was going to fall over and crush John, our burly assistant. Fortunately, the cabinet's attractively curved front baseboard makes the set more like a Weeble than a Suzuki 4 x 4 in a Consumer Reports road test. It didn't take more than a nudge from the back to make the TV lean forward; however, no matter how hard I pushed, I couldn't make it crash to the floor. Satisfied that John was safe from being squashed, I dissected the display's performance.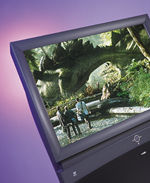 The 64PH9905 is Philips' second-generation HDTV. The Dutch company has made a number of improvements to the model but has kept the unique design. As far as features go, the Philips is fully loaded. The widescreen display can receive and decode both digital and analog television channels with the internal tuners. In addition, the RGB input accepts external sources, such as RCA's HD-DBS system (reviewed in this issue), and is a safe bet for compatibility with the as-yet-unavailable high-definition-capable cable box. One of my favorite features, noticeably absent on most other digital televisions, is a VGA connection for your PC. The TV accepts both VGA and the higher-resolution SVGA computer signals. All this, plus the TV comes with the Philips Pronto programmable, touchpanel remote.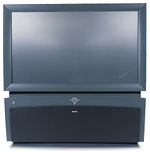 Connecting all the potential sources can be disorienting, given the 64PH9905's scattered array of inputs. Look closely at the accompanying photo and you'll find two stereo audio/composite video inputs. The S-video connectors for these inputs are about 3 inches to the left. The analog RF-antenna input, which tunes regular TV, is on the bottom, but the UHF RF input for DTV channels is about 6 or 7 inches above it, next to the DVD's composite, Y/C, and component inputs. These inputs bypass most of the video circuitry, which results in a cleaner image for the DVD signal. However, the DVD, external HD, and VGA inputs must be configured in the user menu for the type of connector used. Also, these three inputs share either a stereo or 5.1 analog audio input. That makes three video sources for only two—maybe even one—audio input, depending on whether your DVD player or external HD tuner has a 5.1 output. Then again, if you have this many sources, you should be routing audio through an external receiver or preamp.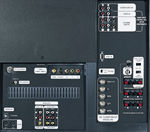 Audio-output options are more abundant and a bit less confusing. The internal DTV tuner can process Dolby Digital signals, while internal amps can power the main speakers or an external 5.1 system. The DTV menu allows for complete adjustment of this system. A DVD player or external DTV tuner that utilizes the 5.1 analog audio inputs can take advantage of the internal amps, as well. The external source will need its own speaker-balance and bass-management adjustments, though. In addition, you'll find a line-level subwoofer output to power an active sub. For better sound, send the analog and Dolby Digital signals to an external receiver. Unfortunately, this will require two audio inputs on your external processor. Regardless, you may choose to reroute the center channel's signal back into the TV's internal speakers. This could be handy, since the cabinet's sloped top makes center-speaker placement difficult. Although we always recommend using an external audio system, the Philips' internal speakers sound rather good for a TV.