Philips 64PH9905 Rear-Projection HDTV Page 2
You may think, at this point, that the television would be too complex to even install. Fortunately, Philips offers two handy items to make things easier. First is the Pronto programmable remote. Reviewing the Pronto is an article in and of itself. The remote allows you to control all your audio and video devices from one easy-to-read, backlit, customizable touchpanel. The remote's ability to perform macros (multiple tasks with the touch of one button) makes it particularly handy. You can use the remote as it's programmed by Philips, but you'll probably want to change the program to create your own commands, since the way it comes from the factory is less than intuitive. However, the remote is so popular that it has its own cult following. (Check out www.remote-central.com—an independently run Website that provides additional design details and support for the Pronto).
To make setup even easier, Philips provides a technician who accompanies the TV upon delivery. The 64PH9905 arrives in less-than-perfect condition from the factory, so your dealer will (per agreement with Philips) deliver, install, calibrate, and converge the TV for the particular sources in your system. After the dealer is gone, Philips' Priority Service Plan takes effect, in case you have any additional questions or concerns.
Once all these settings and features are installed and dialed-in, you'll have a good-looking picture. With levels set accurately for an NTSC image (and presumably accurate for digital images—we don't have test signals for HD yet), I found that blacks and shadows were consistently deep and dark, never wavering as screen content changed, which helps give images more depth and dimension. I also appreciated the nearly accurate color decoder. It rendered vibrant pictures without exaggerating reds or yellows—something common with a lot of TVs. The resulting picture was bright, with colors that snapped.
The only drawback was the color temperature, or gray scale, that tinted the entire image blue. Keep in mind that many people prefer the added brightness that a blue image appears to have. Unfortunately, for those who want an accurate picture, there are no user-adjustable color-temperature settings, and the dealer is most likely not equipped to change the factory settings. An ISF-trained technician with test equipment is best suited for this job.
Philips uses 9-inch CRTs in this TV, which provides another great enhancement to the picture. The 64PH9905 makes full use of CRT technology, offering an image that's extremely detailed. The best indication of this resolution is the visibility of scan structure on high-definition images, which was only noticeable when I pressed my face to the screen. Most DTVs overlap the 1,080 can lines ever so slightly, indicating that the picture, although excellent, isn't fully resolved. The Philips doesn't seem to do this, and the result is a sharp image.
Given this level of resolution, driving the display with 480i images should be downright dreadful. Fortunately, all 480i signals are upconverted (reasonably well) to 480p. In fact, all aspect-ratio changes are made prior to the line-doubling circuit, which creates consistent image detail on the screen at all times. It's almost like having a built-in scaler. Better external line doublers (like the $700 DVDO iScan) can be used, but this set's wideband inputs abandon the adjustable aspect ratio, leaving the image in the full 16:9 mode. The same goes for progressive-scan DVDs. Unless the DVD player or external upconverter has its own aspect-ratio control, you won't be able to view 4:3 images with the correct geometry. The internal processor is more than adequate, however.
I have to say that the most fun I had with this display was when writing this review. Not that writing reviews is such an exhilarating experience, but connecting my laptop to the 64PH9905's VGA input allowed me to view a 64-inch diagonal picture. Web surfing on a large screen becomes much more interesting. CD-ROM games like Homeworld and Rogue Squadron, which I sent through our reference 5.1 surround system, were downright awesome!
In the end, Philips' 64PH9905 rear-projection television has a lot going for it. You get loads of features and inputs, even if the inputs seem placed in random order. The integrated DTV tuner performs well, and the opportunity to add external equipment, ranging from high-definition satellite receivers to computers and potentially to DTV-capable cable boxes, makes this the TV for the new millennium. Sure, the ergonomics leave plenty to be desired, but Philips makes up for it with the in-house service tech. With time and effort, you can even create a useful remote that custom-fits your needs. This television doesn't qualify for plug-and-play applications; however, when installed by capable hands, the result is extremely rewarding.
Highlights
• Accepts wideband component, five-wire RGB, and D-sub 15-pin connections
• Comes with the totally programmable Pronto remote
• Philips sends a technician to help with installation

HT Labs Measures: Philips 64PH9905 HDTV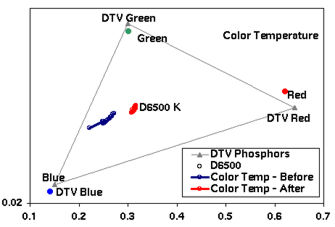 The chart above shows the gray scale (or color temperature) of the Philips HDTV and the color points of the display's red, green, and blue tubes. The gray scale, a measurement of various levels from dark gray to white, should appear as a dot at the D6500 Kelvin point in the chart above. As the chart indicates, the set measures extremely blue (about 16,000 K) out of the box and becomes slightly less blue (about 9,000 K) as the image gets brighter (e.g., more white). After making adjustments using the Photo Research SR-650, the television performs well, with a gray scale that tracks within a couple hundred degrees of the industry standard D6500 K. As seen by the colored dots on the outside edges of the chart's triangle, the display's blue tube exceeds SMPTE specifications; green, however, falls slightly shy, while red is more orange. The 64PH9905's light output caps out and is limited to 14 foot-lamberts. Even though you can increase the brightness after you've reached this point, the peak light output does not increase. (This is a good thing, as it prevents you from burning the phosphors.) The set's measurements improve when peak light output is set to about 10 ft-L.—MW
LATEST VIDEO