Philips 42PF9966 42-inch Ambilight Plasma HDTV Monitor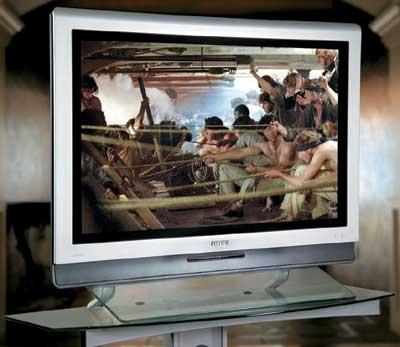 Most folks here in the U.S. know Philips as a company that makes light bulbs. But the European electronics giant has been at the forefront of the flat-TV revolution since Day One, releasing a wide range of slim models in the plasma and LCD categories. Apparently a bulb ignited over someone's head there across the pond, because the company's new sets combine two of its core product lines - flat TV and lighting - into one innovative design. Philips calls the TVs, which have vertical fluorescent backlights flanking either side, Ambilight models. Hard-core videophilies have been backlighting their TVs for years, so having a manufacturer finally step up and build a backlight into the set itself seems like a bright concept indeed.
Fast Facts
DIMENSIONS 43 1/2 x 30 1/2 x 4 inches WEIGHT 95 1/2 pounds PRICE $6,000 MANUFACTURER Philips, flattv.philips.com, 800-531-0039
Key Features
• 1,024 x 768-pixel native resolution • Ambilight backlighting system • rear inputs HDMI, RGB, 2 composite/S-video and 2 component-video, all with stereo audio; analog RF antenna/cable; center-channel audio • side inputs composite/S-video with stereo audio • outputs composite-video; 2 stereo audio; subwoofer audio
What are the advantages to backlighting a TV? For one, it lessens the eye fatigue that comes from staring at bright images in a dark environment. It also adds a light source to the room that doesn't reflect off the screen and screw up picture contrast. Of course, there are a few geeky details that you should know if you're thinking about backlighting your TV. First, the illumination needs to be the correct "color temperature," and for watching TV that's 6,500 K. Second, the surrounding environment should ideally be a neutral gray hue (for all you thirtysomething guys still living at home, Star Wars-themed wallpaper won't cut it).
Though the Ambilight TVs don't have an exact 6,500-K preset, Philips does provide controls for brightness, color, and saturation that will get you close to the target. There are additional presets and an auto mode that changes the backlight color to match the dominant hue of the onscreen image. But unless you're into psychedelic light shows, these modes are little more than gimmicks.
Ambilight aside, the Philips 42PF9966 is an HDTV monitor, which means you'll need an outboard digital tuner to watch HDTV programs, although you can receive analog TV stations with the TV's built-in tuner. Its 42-inch screen sports a wide (16:9) aspect ratio and has a pixel resolution of 1,024 x 768. The outer frame is a silver-toned plastic, while the thin metal grille across the bottom conceals the built-in speakers.
A set of controls to power up the TV, navigate menus, adjust volume, and switch channels is built into the right side, while the left side provides an A/V input. The set comes with both an angled glass table stand and a wall bracket - a welcome freebie considering that you normally have to pay upwards of $250 for mounting hardware.
A/V connections include an HDMI (High Definition Multimedia Interface) port and two sets of component-video jacks, one of which doubles as an GB input. Another cool extra is the DVI (Digital Visual Interface)-to-HDMI adapter cable.
Philips's slim, aluminum-faced remote control has a solid, high-end feel, and its styling put my other remotes to shame. There's no backlit keypad, but the buttons are big and comfortably spaced out over its surface. You switch sources by hitting the OK button in the center of the disc-shaped menu-navigation control and use the on screen menu to cursor to the one you want.
The Screen Format button toggles through seven display modes, which include two zoom and two stretch modes plus 4:3 (standard) and widescreen (16:9). Unfortunately, the set locks into widescreen mode for HDTV, so you can't adjust the shape of stretched 4:3 programs like the ones shown on the TNT-HD channel.
LATEST VIDEO