Phiaton PS 300 NC noise-canceling headphones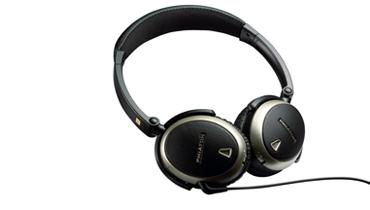 The Short Form
$300 / PHIATON.COM
Snapshot
Great noise canceling and a ton of accessories don't quite make up for these headphones' disappointing bass.
Plus
• Great noise canceling • Rich treble and midrange • Loads of accessories
Minus
• Disappointing bass • Expensive
Key Features
• Spare battery • USB charger with AC and international power adapters • 6.3mm stereo and dual-plug airplane audio adapters
Premium headphones are like premium speakers. They command a high price tag, but the sound quality and features offered usually make up for it. If you spend more than $150 on a set of headphones, you can generally expect deep, rich sound and, often, features like noise canceling that can take you away from the distractions of your surroundings. Phiaton attempts to offer this experience with the PS 300 NC, the company's first set of headphones to feature active noise cancellation.
The box comes with so many accessories and extras that it could easily be sold by Billy Mays. Besides the headphones themselves, Phiaton includes a solid nylon carrying case, a detachable cable with in-line mute button, a 3.5mm to 6.3mm stereo plug adapter, a dual-plug adapter for airplanes, a USB charger for the headphone's battery, an AC adapter for the charger, several international power adapters for the AC adapter, and not one but two batteries to power the noise cancellation feature. The headphones only use one battery at a time, so when one runs dry you can pop in a fresh one instead of waiting for it to charge. All that's missing is a Sham-Wow and a tub of Oxy-Clean.
The headphones use a small lithium-ion battery kept in the right earpiece to power an active noise-canceling feature, using external microphones to pick up background noise and adjust the sound accordingly. Phiaton claims the battery lasts up to 18 hours on a single charge, which is more than enough for all but the longest plane rides. The included second battery lets you bump up the noise-cancelled listening time to a full day and a half before needing to plug in and recharge. The headphones also work un-powered, so if you don't feel like juggling batteries (and don't mind outside), you can switch off the feature and ignore the battery.
I put the headphones through their paces on the streets of New York, seeing how the headphones block out street noise, subway noise, and retail store noise. For the company's first product to offer the feature, the PS 300 NC's noise canceling system is excellent, albeit uneven and occasionally annoying.
Like most active noise-canceling features, the PS 300 NC's system suffers from occasional feedback. When I exerted pressure on the left cup, like while putting on the headphones or switching on the noise cancellation, I heard a painful squealing coming from that side. Oddly enough, I never heard the feedback on the other side of the headphones. It's a minor annoyance, but not one that affects the listening experience.
From the rumble of the R train to the roar of Toys R Us Times Square's animatronic t-rex, the PS 300 NC's kept out virtually all noise. It was particularly good at blocking out low-frequency noise, but let a fair amount of higher-frequency noise through. Thumping and rumbling from construction equipment and traffic went unnoticed, but quieter, sharper tones like the splash of rain and the squealing hiss of city busses' air brakes spilled through. I could stand on a subway platform and hardly hear the trains rush by, but I could still hear the fans in the air conditioner next to my desk. It's puzzling, but not entirely bad; by keeping out low frequency noise, the headphones take care of the most distracting parts of ambient sound, and by letting high frequency noise through, it preserves a measure of environmental awareness for users who want to walk around while listening to music. Noise-cancellation is designed primarily to block out airplane and commuter rail ambient noise, and at this the Phiatons are very effective.