Panasonic TH-42PX60U Plasma HDTV, SA-XR57 A/V Receiver, DMR-EH55 DVR/DVD Recorder, and SB-TP100 Speaker System At A Glance & Ratings: Panasonic TH-42PX60U Plasma HDTV
At A Glance: Panasonic TH-42PX60U Plasma HDTV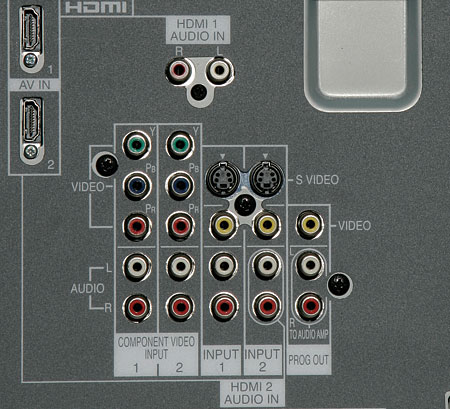 Features
Type: Plasma
Screen Size (diagonal): 42 inches
Native Resolution / Aspect Ratio: 1,024 x 768 / 16:9
Half Life: 60,000 hours
Wall Mount or Stand Included?: Stand
Dimensions (H x W x D, inches): 27.8 x 40.2 x 3.7 (without stand)
Weight (pounds): 65 (without stand)
Price: $2,500
Connections
Inputs:
Video: HDMI (2), component video (2), S-video (3), composite video (3)
Audio: Stereo analog (5)
Outputs:
Video: Composite video (1)
Audio: Optical digital (1), stereo analog (1)
Additional: SD card slot (1), RF in (1)
Ratings: Panasonic TH-42PX60U Plasma HDTV
Build Quality: 90
Mostly plastic chassis, sturdy stand
Value: 94
Price on par with similarly sized flat panels
Features: 88
Four HD-capable inputs but no PC input
Performance: 93
Excellent contrast ratio creates rich HD and DVD images
Ergonomics: 89
Remote lacks backlighting and discrete input buttons
Overall Rating: 92
The TH-42PX60U boasts the best contrast ratio we've measured to date in a flat panel and renders a very attractive image. It's priced right, too.
General Information
TH-42PX60U Plasma HDTV, $2,500
Panasonic
(800) 211-PANA
www.panasonic.com
HT Labs Measures: Panasonic TH-42PX60U Plasma HDTV
Full-On/Full-Off Contrast Ratio—2314:1; ANSI Contrast Ratio—740:1
Measured Resolution with the Leader LT-446:
480: 470 (per picture height)
720p: 720 (pph)
080i: 690 (pph)
DC Restoration (poor, average, good, excellent): Good
Color Decoder (poor, average, good, excellent): Average
Measured Color Points:
Red Color Point: x=0.663, y=0.329
Green Color Point: x=0.263, y=0.665
Blue Color Point: x=0.147, y=0.064
The left chart shows the TH-42PX60U's gray scale relative to its color temperature at various levels of intensity, or brightness (20 IRE is dark gray; 100 IRE is bright white). The gray scale as set by the factory, in the Normal color-temperature mode, measures cool across the gray-scale range. After making adjustments using the Photo Research PR-650, the gray scale measures within 350 Kelvin of D6500, the accurate color temperature, across the entire range.
The right chart shows the gray scale (or color temperature) relative to the color points of the display's red, green, and blue phosphors. These are fairly off those specified by SMPTE. Blue is very slightly oversaturated and very slightly greenish-blue. Red is somewhat oversaturated. Green is oversaturated and somewhat bluish-green.
After calibration, and using a full-field 100-IRE white (27.77 foot-lamberts) and a full-field 0-IRE black (0.012 ft-L), the contrast ratio was an impressive 2,314:1. Using a 16-box checkerboard pattern (ANSI contrast), the contrast ratio was 740:1. With a 100-IRE window, the TH-42PX60U produced 48.68 ft-L. (It is normal for a plasma to have lower light output on a full-field white versus a white window.)—GM