Panasonic TH-42PX60U Plasma HDTV, SA-XR57 A/V Receiver, DMR-EH55 DVR/DVD Recorder, and SB-TP100 Speaker System
HDMI: It's not just for video anymore.
HDMI is a wonderful invention filled with promise. When utilized to its fullest, it can offer the best of both worlds: uncompressed audio and video signals and intelligent, two-way communication over a single cable. Manufacturers have long teased us with talk of complete home theater systems that you can set up using just two or three cables, but the reality has fallen far short of the promise. Most designers have used HDMI only as a top-grade video connector, paying little attention to its audio and communication abilities. Armed with the new HDMI 1.2a spec (the products here were designed and released before 1.3 was finalized), Panasonic is aiming for the ultimate in connection and control with their new EZ Sync HDAVI Control products.
EZ Sync is a proprietary system that allows new Panasonic receivers, DVD players, and flat-panel TVs to communicate with one another over an HDMI connection. The feature won't be of much use to someone looking to buy a single product, like a DVD player. Its appeal is in its ability to improve setup and control of a complete system; so how could we resist putting EZ Sync to the test in an all-Panasonic Spotlight review? I requested three EZ Sync products: the DMR-EH55 DVR/
DVD recorder ($500), the SA-XR57 7.1-channel A/V receiver ($400), and the TH-42PX60U 42-inch plasma HDTV ($2,500). Rounding out the Panasonic package were the SB-TP100 5.1-channel speaker system ($1,700) and the SH-FX60 wireless transmitter ($150), which allows for wireless setup of your surround speakers.
Count the Cables
It took me much longer to unpack and organize the different components than it did to connect them. I almost teared up when I realized that basic setup required just two HDMI interconnects (not included): one from the DVD recorder to the A/V receiver and one from the receiver to the HDTV. The DVD recorder can output PCM, multichannel Dolby Digital and DTS, and two-channel DVD-Audio through HDMI; the HDMI 1.2a spec allows for multichannel, high-resolution audio, but Panasonic opted not to include SACD or multichannel DVD-Audio playback. Given the system's low price point and the two formats' success rate thus far, I can't really blame them.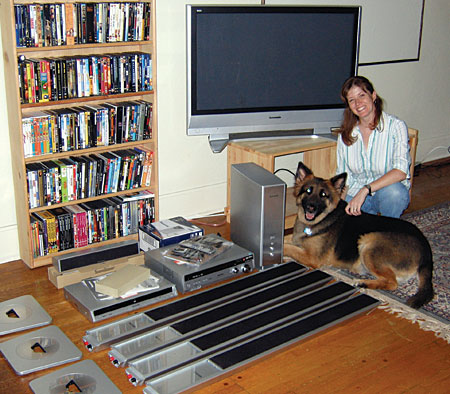 You still have to run speaker wire and a subwoofer cable, and Panasonic supplies both. If you don't wish to run wire around the room to your surrounds, the SH-FX60 is a handy add-on. Simply connect your surround speaker wires to the SH-FX60 receiver in the back of the room; it receives the audio signal via RF from a transmitter that plugs discreetly into a slot in the SA-XR57's back panel. The transmitter and receiver communicate in the 2.4-gigahertz band, which interfered with my wireless network router located across the room. I quickly solved the problem by changing channels on my router. Panasonic recommends that you place the SH-FX60's receiver unit no farther than 33 feet from the transmitter; I was able to establish a connection up to 40 feet away, but the signal wasn't stable at that distance. As a bonus, the SH-FX60's receiver unit includes a music port, to which you can attach an iPod or other auxiliary device to listen to music through your main system.
That's all the setup required for a DVD-only entertainment system. Of course, the more sources you wish to incorporate, the more cables you must add. Lest we forget, the DMR-EH55 is also a DVR with a 200-gigabyte hard drive, which means it needs a TV source. S-video, composite, and RF are your video-input options, and the DMR-EH55 will pass on these input signals through the HDMI output to the receiver. TV Guide On Screen is the DMR-EH55's program guide of choice; unfortunately, the recorder never successfully downloaded program-guide info for my digital cable service, so I could only set manual recordings. I can't say for sure that the fault lies with the recorder, as Adelphia was handing service over to Time Warner during my review period, which could have affected the process.
To add HD sources, the easiest route is to feed the video signals directly to the TH-42PX60U plasma's HDMI and component video inputs and send audio to the receiver. If you prefer to switch video signals through your receiver, prepare for more cable clutter. The SA-XR57 receiver only has one HDMI input, intended for use with a DVD player. It does offer dual high-bandwidth component video inputs and one output, but it doesn't convert component video input to HDMI output, so you have to run both component and HDMI cable to your TV. I would soon discover that EZ Sync makes this less of an issue.