Panasonic Puts Players in the Game with Wearable Gaming Speaker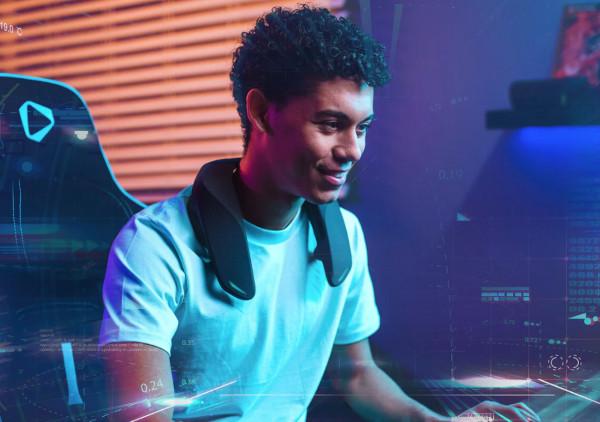 Panasonic aims to help gamers get inside the game with a new wearable version of the
SoundSlayer gaming speaker it introduced in 2020
.
Instead of sitting below the TV like a soundbar, the GNW10 SoundSlayer ($299) goes around the player's neck and projects sound from a pair of "arms" that rest on the chest. Each "arm" is equipped with a pair of 1.5-inch drivers designed to provide an immersive experience that pulls gamers into the action.
GNW10 improves upon the current SC-GN01 wearable gaming speaker with the inclusion of speakers that are 60% larger and a new "AI voice communication processor" designed to facilitate high-quality noise/echo cancellation for enhanced multiplayer gaming sessions and AI beamforming for improved immersion.
Described as comfortable to wear for hours on end, the lightweight speaker can be controlled with voice commands and receives audio signals via a compact wireless transmitter that connects via USB to a PC or gaming console. Going wireless enables more freedom of movement and "latency free" gaming. Panasonic uses a proprietary technology that can transmit six-channels of audio on a dedicated 2.4-GHz band with a rated latency of less than 20 milliseconds.
The SoundSlayer is compatible with Windows 10/11 PCs, Sony PS4 and PS5 consoles, and the Nintendo Switch (TV mode only).
For gamers who want to create an even more visceral auditory experience, the system includes a subwoofer output that offloads deep bass to a stand-alone subwoofer.
Panasonic further enhances the experience for PC gamers with its SoundSlayer app, which can be used to control the volume of the speaker, equalize the sound, select sound modes, and save up to three custom presets. Six sound modes are on tap, three of which are optimized for gaming: RPG (Role-Playing Gamer), FPS (First Person Shooter), Voice (for games with a lot of dialogue), Cinema, Music, and Stereo.
Without the app, the GNW10 SoundSlayer is operated via controls on the speaker itself. For more information, visit shop.panasonic.com.