Our Favorite Test Material
HT's audio and video editors share the test and demo discs they use to put a system through its paces.
Audio Test Discs

DVD: Band of Brothers—HBO
If you're looking for a single movie that will put a home theater system through its paces, then look no further. Band of Brothers features world-class audio production, with an immediacy and intensity that are off the charts. It's also controlled so that it doesn't bombard you with screaming high frequencies or bloated, overdriven bass. The soundtrack was done by the same group who won the Academy Award for Saving Private Ryan—another audio masterpiece. Dolby Digital 5.1 and DTS tracks are aboard the Band of Brothers DVD release, which makes for a handy A/B comparison and lets the viewer have their preference. It's also an outstanding movie in every other sense, which makes it easy to watch over and over again.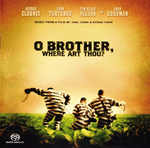 SACD: O Brother, Where Art Thou?—Lost Highway Records
Take living legends of old-time country music paying tribute to the immortals of old-time country music, put them in a format that lets you experience every pick of the guitar and every heartfelt word of the lyrics, and you've got the O Brother soundtrack on SACD. Some of the best singers and pickers in country music today perform traditional mountain songs from the days before record labels, and the result is moving. Even if you're not an old-time fan, this disc is one of the best SACD recordings I've heard, and it's an excellent demonstration of your system's dynamic range, soundstaging, and frequency response.
DVD-Audio: Swing Live, Bucky Pizzarelli—Chesky Records
It doesn't get any better than this for quality multichannel, high-resolution recordings. Bucky Pizzarelli and company pay tribute to the immortal Benny Goodman, which means there's a whole lot of clarinet, a whole lot of swing, and a whole lot of memorable tunes. It was recorded live by Chesky engineers in a Manhattan nightclub, which comes back to life in your listening room, thanks to the high-resolution, multichannel treatment. This is surround music as it ought to be.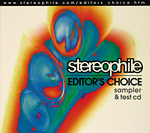 CD: Editor's Choice: Stereophile Sampler and Test CD—Stereophile Recordings
All of the Stereophile test CDs are excellent, but this one is our current favorite, as Stereophile editor John Atkinson has gone through the archives and selected some of his favorite tracks from the last ten years of Stereophile recordings. He explains what to listen for and how each track will help you evaluate your system's performance. The quality is excellent, and the selections are superb. And, of course, it wouldn't be a Stereophile test CD without the requisite test tones at the end—which are always valuable. To say this disc is a steal at less than 10 bucks is a serious understatement.

Calibration: The 5.1 Audio Toolkit—Performance Media Industries and Gold Line
This disc has proven to be an invaluable tool for 5.1-channel system calibration and room tweaking. It comes from no less an authority on room acoustics than Tony Grimani and company at Performance Media Industries (PMI) and Gold Line. There are some 80 different test signals in a sensible, easy-to-follow progression that address just about every issue you could imagine for multichannel systems. It's more expensive than some calibration discs, but, when you consider that you'll never get anywhere if your room and system don't get along—and that this is the best multichannel calibration disc out there—you'll realize that this is money well spent.
Video Test Discs

Calibration: Digital Video Essentials/Video Essentials—Joe Kane Productions
Everyone should own DVE. (Video Essentials is the previous version and is no longer in print.) With a bunch of test patterns and tutorials, you'll be able to set up your home theater system to look as close to filmlike as possible (without an actual ISF calibration). Digital Video Essentials Professional adds even more patterns, as well as HD test patterns in the form of Windows Media Video HD.

Calibration: Avia Pro—Ovation
If you're really hard-core—or are thinking of making home theater a career—Avia Pro is a video tutorial in a box. It's a little pricey, but, for what you get, it's worth it. In addition to several DVDs' worth of test patterns and tests, you get a three-ring binder that explains what each pattern is, what it does, and why it is designed the way it is. Most of them even come with screen shots of what the pattern looks like on a waveform monitor. With the exception of a test-pattern generator (and a really expensive one, at that), there is nothing out there that will let you fine-tune and test your entire system better than these discs.
DVD: Master and Commander: The Far Side of the World—20th Century Fox
The opening of this movie is a great test for how well a display can handle dark scenes. The dark portions of the image should be, well, dark. There should be detail in the shadows, and the gradations from the light parts of the image to the dark parts should be smooth, not stepped.

DVD: The Fifth Element Superbit—Columbia/TriStar
The ubiquitous Fifth Element: This disc has been used in more demo rooms and by more reviewers than probably any other DVD. There are so many good video tests on this beautifully shot and encoded DVD. In the opening scenes, look for the detail in the professor's beard and on the hieroglyphs on the wall. Chapter 5 will show how well a display handles gradations from light to dark. As Bruce Willis sits up in bed, look behind him at the gradations in the shadows. There should not be any visible steps or banding. In the same chapter, check out the colors in the fish, the walls, and Willis' fleshtones. The "Diva" scene is also an excellent audio demo.
DVD: Gladiator—DreamWorks
The flyover of Rome at the end of chapter 12 is a great test for deinterlacers and scalers. There shouldn't be jagged edges on the rooftops or the Coliseum. If you're using a composite connection (upgrade!), then this can also test your display's comb filter. The fine detail in the rooftops should look clean, without any color banding or cross-color artifacts.