Onkyo's New 8K-Ready AVR Supports Dolby Vision & Lots More for $399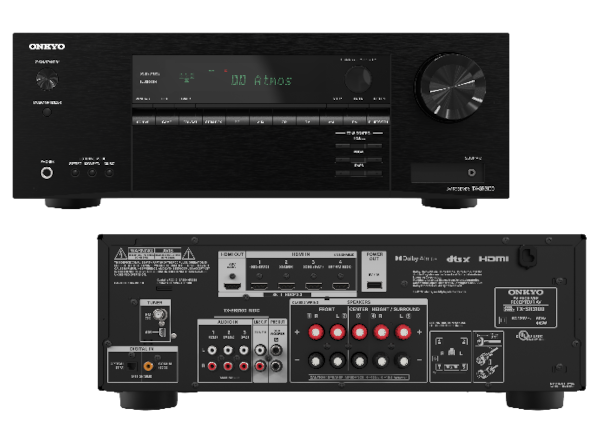 Onkyo today introduced a new 5.2-channel AV receiver that brings a robust slate of future-ready features to system builders for only $399.
The least expensive AVR in Onkyo's lineup, the TX-SR3100 supports HDMI 2.1 connectivity and accommodates a range of video resolutions and refresh rates, including 8K60 and 4K120, in addition to the preferred Dolby Vision and HDR10+ dynamic HDR formats.
Dolby Atmos and DTS:X processing is also on board to deliver a 5.2- or 3.3.2-channel surround-sound experience with the option of engaging Dolby's Height Virtualizer technology to create virtual surround and height effects without the need for additional channels and speakers. The receiver also delivers virtual surround via DTS Virtual: X and Neural:X processing, both of which are effective at creating a spacious effect with standard stereo.
Rated power output is 5 x 80 watts via a traditional Class AB amp section and the receiver is equipped with Onkyo's AccuEQ calibration system, which automatically compensates for the effect of room acoustics, a Vocal Enhancer to accentuate dialogue in movie soundtracks, and a Music Optimizer DSP listening mode said to improve the sound quality of compressed audio files by "reconstructing data lost during compression."
The SR3100 also has a unique Klipsch Optimize Mode for use with speakers from Klipsch's Reference and Reference Premiere speaker series. Both brands are manufactured and distributed under the Premium Audio Company (PAC) along with a number of other well-known audio brands, including Pioneer, Integra, Mirage, Jamo, and Teac.
Connections include 4 HDMI ports, optical and coaxial digital inputs, and three analog RCA inputs in addition to two subwoofer outputs. For more information, visit onkyousa.com.