One Channel Serves All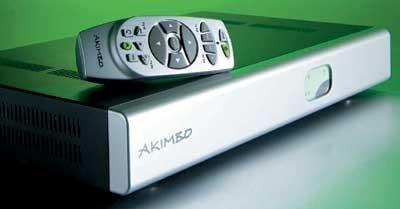 Conventional TV broadcasting, whether over the air or by cable or satellite, sends out multiple channels all at once, and it's up to the viewer to tune in a particular one at a set time to watch or record a show. Akimbo is promising the next step: speedy interactive delivery of video directly from the Internet to a hard drive connected to your TV. If all goes as promised, this sleek silver and black box could bring into question the very need for conventional broadcasting.
Fast Facts
DIMENSIONS (WxHxD) 17 x 3 x 11 inches PRICE $230 for player, including 3 months of service; $10 a month, or $199 for lifetime service, for "free for all" programs; pay programs and premium subscriptions extra MANUFACTURER Akimbo Systems, akimbo.com, 650-292-3330
Key Features
• Requires broadband (cable modem or DSL) Internet connection • Select programs from TV or remote computer • Player stores 200 hours of video on 80-gigabyte hard drive • outputs composite and S-video; stereo analog and optical digital audio; Ethernet and 2 USB ports
While cable companies are already offering services that let us start and pause programs at will, selections are limited compared with what you can find in a video store. By early 2005, Akimbo was offering more than 500 programs, ranging from 1-minute trailers to feature-length films. Most can be downloaded "free" as part of a $10 basic monthly subscription. Some movies cost as much as $3.99 to download and are automatically deleted after 7 or 30 days whether you watch them or not.
The Akimbo service is organized into channels such as Turner Classic Movies, the BBC, the Luxury Channel, Green Cine, and Cartoon Network's Adult Swim. Programs are also sorted into categories like Music, Movies, Kids, and Foreign Language. If you choose certain premium subscriptions, Akimbo will automatically download selected programs for you on a daily, weekly, or monthly basis. Premium subscriptions will include Latelelatina (Spanish-language arts, culture, and news for $1.99 a month), GolfSpan (golf instructions for $2.99 a month), and Studio 4 Networks (educational programs for very young children, $1.99 a month).
SETUP AND BASIC OPERATION The Akimbo player comes with a composite-video/stereo cable - you can use your own S-video and optical digital audio cables - and a remote control that can stand upright. I connected my own Ethernet cable between the player and my home network router, adjacent to my TV. If your router is in another room and you have a wireless network, you can buy a Wi-Fi adapter such as the Linksys Wireless-B ($70 from Akimbo).