Olive O6HD Music Server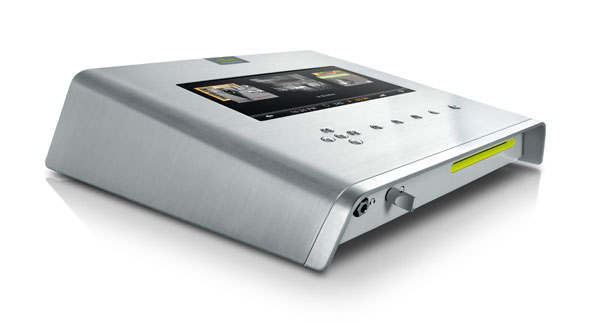 After five years of developing high-end music servers, San Francisco-based Olive today unveils its flagship O6HD, designed from the ground up as a true audiophile digital-audio server. According to Dr. Oliver Bergmann, co-founder and CEO of Olive, nothing has been spared in bringing it to fruition.
The elegant diagonal design utilizes passive cooling without a noisy fan, and it is crowned by a 10-inch, 800x480 color touchscreen, which provides the primary user interface. The unit also comes with its own remote, and you can also download a free iPhone/iPad control app.
Beneath the surface is a fully balanced differential DAC capable of 24-bit/192kHz operation with a signal-to-noise ratio of 124dB. Clocking is provided by a separate, temperature-controlled crystal oscillator with jitter of less than 10 picoseconds. Finally, an asynchronous sample-rate converter can increase any lower resolution to 24-bit/384kHz.
A plethora of outputs adorn the rear panel—AES/EBU, TosLink, and coax digital along with balanced and unbalanced analog with a frequency response from 20Hz to 20kHz (+0, -0.5dB) and THD+N less than 0.0007%. A headphone output on the front is fed by its own 24/192 DAC and high performance amp. Other connections include HDMI, USB, and gigabit Ethernet as well as an IR input and two 802.11n WiFi antenna ports.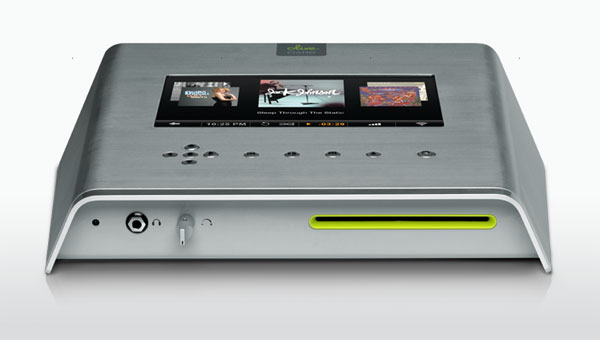 CDs are imported using a high-quality TEAC CD-RW drive that can also burn audio, MP3, and data CDs. Files are stored on a 2TB internal hard drive—cushioned in eight layers of noise-isolation padding—that can accommodate almost 20,000 HD tracks or 6000 CDs in their original quality. Not only that, the O6HD can access Internet radio stations and audio files on a networked computer or NAS (network-attached storage), and it can stream music to different rooms over the network.
"When approaching the O6HD design," says Bergmann, "we sought the highest possible quality for each component, without compromise. Primary for us was creating the most faithful playback of high quality audio in digital format." Of course, such quality doesn't come cheap—the O6HD with 2TB of hard-disk storage lists for $5000. It seems well worth that much on paper, and I'm sure we'll see a review in Stereophile as soon as they can get their hands on one.