Superman Builds a Gaming PC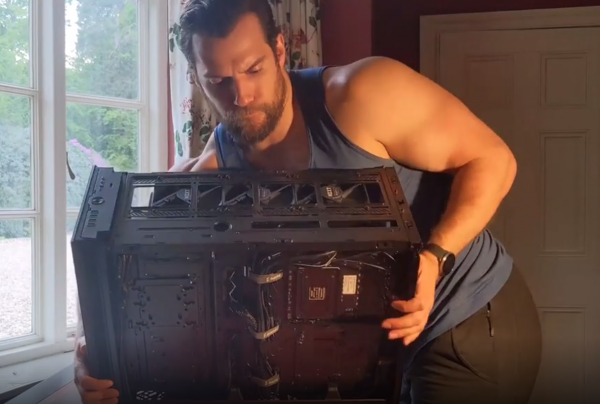 Superman obviously reads
S&V
. Well, at least he reads this
Signals
column. Why else would he so specifically follow my suggestion, and then post about it on his Instagram page?
Let me explain. Alert readers will recall that last time, I wrote about the next generation of audio/video engineers, and how, in my estimation, the burgeoning cult of DIY gaming PC building was fertile ground for developing the skills those future engineers will need. And, by way of summary, I suggested that building your own gaming PC was a pretty cool thing, and you might want to try building one yourself.
Well, clearly, Superman, Henry Cavill, that is, read that blog and agreed that it sounded like fun. He ordered all the parts he needed and set to work building his own gaming PC. Naturally, since he is a show business kind of guy, he recorded his effort, and posted the video on his Instagram page. So, how did Mr. Cavill do? Let's take a look at his video, and find out.
The opening shot shows his array of components in their boxes. This shot is, in fact, de rigueur for anyone doing a PC build video. Interestingly, he took the time to blur out the manufacturers' names on the boxes. I think we can infer that this video is not a example of product sponsorship. He legit bought the stuff himself, probably placing his order right after he read my blog.
The manufacturers' names are blurred, but the boxes are easily identifiable. He appears to be building a PC with an AMD Ryzen 9 CPU, an Asus ATX motherboard, NZXT AIO (all-in-one) liquid cooler for the CPU, G.Skill Trident RAM, a couple of M.2 SSDs, RTX 2080 Ti OC video card, Seasonic power supply, and a Fractal Design case. All in all, those are deluxe selections, and should yield a very tasty rig. Incidentally, thumbs up on a well-lit, large and orderly workspace, and a fine toolkit. Ready to build!
Mr. Cavill begins by installing his CPU. We see that he has some trouble getting the chip correctly orientated in the AM4 socket. In all fairness, the socket is square, so it's not obvious. Mr. Cavil might be a first-time builder. Experienced builders would know that both the CPU and the socket have a triangle mark in one corner that guides you to the correct orientation. Fortunately, the chip and socket are also keyed, so only one orientation, the correct one, is permitted. After a few tries, he drops it in correctly, and locks it down. Good job! You know, maybe he knew the correct orientation all along, and was just creating some drama for his video. Actors. What are you going to do?
Next, he tackles the AIO cooler. Thermal paste is applied at the factory, so he correctly skips that step. He attaches the water block to the motherboard without any trouble. After checking the instructions, he spends some quality time with the fans and radiator, checking on various placement possibilities in the case, then after awhile completes their installation. He pops in the power supply and does everyone's favorite part – cable management. It's hard to get a close look at his all-black cabling, but overall it looks clean. Actually, looking again at the top photo with the good light on the back of the case, you can see some very tidy use of cable ties; I'm thinking this might not be his first build. He adds some case fans, then plugs in the video card.
And then, the moment of truth – it boots up! A decent amount of RGB color bling, but certainly nothing garish. Just right, in fact. Uh oh! What's the deal with the AIO? Not a functional problem, but the display on the water block is upside down. Some non-OCD guys would leave it, but Henry will have none of that. On some AIOs, you can simply rotate the block cover to orient the logo or display. Maybe this one doesn't allow that; Henry deftly pulls out the block, correctly wipes away the thermal paste from the CPU's lid, carefully trowels on new paste, and reinstalls the block with the display right side up. Success! Game on!
Alright – The Man of Steel has a pretty busy schedule, saving school buses from hurtling off cliffs and what not. And he just built his own PC. What's your excuse?