Oakley Thump MP3 Sunglasses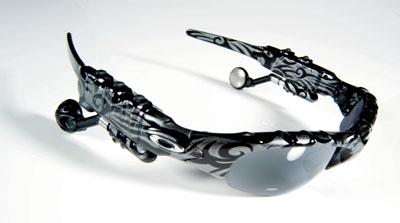 The Short Form
oakley.com / 800-431-1439 / $495 / 2 oz
Plus
•Nice looks - choice of three colors. •No headphone cord. •Decent capacity.
Minus
•Hard on the wallet.
Key Features
•512 MB of flash memory •Plays MP3, WMA, and WAV files •USB port on right side •Earbuds extend and rotate in two directions for close fit
Technology has witnessed some pretty perplexing combos in recent years - the Internet refrigerator, the calculator pen, Tom Cruise and his Katie Holmes android. So when Oakley debuted its Thump MP3 sunglasses last year, many were left scratching their heads. Who ordered this?
Well, seeing as Oakley recently released an upgraded version that holds 512 megabytes (Thump used to max out at 256 MB), more than a few people must have been sold. And once you get past the slightly bewildering concept, it dawns on you that putting some flash memory in a place close to your ears is actually a half-decent idea. The big advantage is that there's no annoying headphone cord. But Thump has the added bonus of stylish looks. It comes with a microfiber bag for carrying and cleaning, and the lenses flip up just in case you get the urge to look really, really dorky.
Three buttons on the right side of the frame control track up, play/pause, and track down. When you turn the player on or off by holding down play/pause, there's an audio cue (appropriately, a "thump"). Volume controls are on the left side, and the USB port on the right is so unobtrusive it may take a second to find. Transferring songs was very easy - and very cyberpunk if you wear the shades while uploading.
I took the Thump to a summer barbecue on New York City's Roosevelt Island to see if it would impress - both my friends and me. Mission accomplished on both fronts. Everyone wanted to try them out, even a few curious passersby. Sound from the adjustable earbuds was open and clear, never tinny or thin - much better than you tend to get with portables, even the iPod. The battery is clocked at 6 hours, which I found about right.
As we were chowing down some hot wings, one of my buddies asked how much Thump costs. When I told him it was half a grand, he nearly choked on his drumstick. Still, these are definitely some very slick sunglasses, and the 512 megs put them on par with current flash players like the iPod shuffle. True, you could get five shuffles for the same price, but would those suit your needs? If headphone cords are the bane of your existence and you listen to a lot of music outside, then slip on these sporty shades and get Thumping.