NuVo Technologies Grand Concerto Multiroom Audio System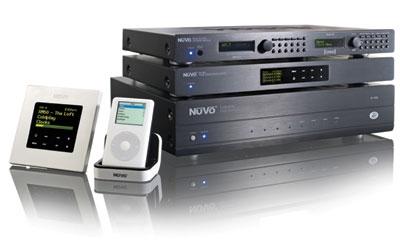 The 21st century is giving us numerous ways to listen to and control our music. Not only can we now distribute tunes around our homes with the touch of a button, but the wonder of metadata feedback actually lets us know what's playing as well. The only downside: Most systems that let you view iPod and satellite-radio song information in your bedroom still require complex professional installation.
Although multiroom audio systems from Kentucky-based NuVo Technologies are sold through professional installers, they're also available from shops that cater to the do-it-yourself crowd. The company's latest, the NuVo Grand Concerto multiroom audio system, comes in a just-add-speakers-and-sources bundle with everything you'll need to get your housewide audio system up and running. This one-box solution provides a six-source, eight-zone system that powers as many as 12 speakers with 40 watts each and provides metadata feedback and keypad control to boot. And while TV manufacturers have been dangling organic light-emitting diode (OLED) technology before us as the Next Big Thing, NuVo has actually delivered, using it for the displays on its new keypads.
Setup The Grand Concerto system includes the NV-18GM multiroom controller/amp, six NV-18GCP keypads, an IR system remote, an EZ port connection hub, six IR emitters, and a Cat5 network cable.
The system handles as many as eight zones but has amplification for only six. Adding Zones 7 and 8 requires separate amplification, and NuVo offers the Zone Pak ($699), which includes a P2100 100-watt stereo power amplifier, an additional keypad, and cables. For large houses, two Grand Concerto systems can be connected for a 16-zone, six-source system.
The Grand Concerto's back panel includes status inputs for power management of components that don't have discrete power commands, trigger outputs for each zone, a bidirectional RS-232 port for a third-party control system, and both fixed and variable line-level outputs for each zone.
LATEST VIDEO