Niro 1.1 Pro Three-Piece Surround System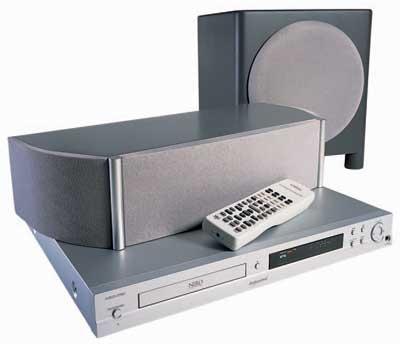 You know movies sound more thrilling in surround sound than in plain stereo. Unfortunately, you lack the space, inclination, or décor - perhaps in a bedroom, dorm room, or weekend retreat - to accommodate all of the speakers and gear for a home theater system, or even a seven-piece home-theater-in-a-box (HTiB) system. The Niro 1.1 Pro takes the HTiB approach to a new level of simplification and condensation. It's a
three
-piece system consisting of a DVD player/receiver, one speaker cabinet, and a subwoofer, all of it styled with understated elegance.
FAST FACTS
DIMENSIONS (WxHxD) player/receiver, 17 x 2 x 13 1/4 inches; speaker, 19 x 4 1/4 x 8 inches; subwoofer, 11 3/4 x 13 x 11 3/4 inches WEIGHT player/receiver, 9 1/4 pounds; speaker, 9 1/2 pounds; subwoofer, 14 1/4 pounds INPUTS/OUTPUTS 2 stereo audio inputs; composite-, component-, and S-video outputs, all with stereo audio PRICE $799 MANUFACTURER Nirotek America, www.niro1.com, 310-533-6000
The Niro 1.1 Pro is not the first home theater system to banish surround speakers, but it's one of the first to dispense with the left and right
front
speakers, too. It was created by Niro Nakamichi, the legendary Japanese engineer who helped make the audio cassette a viable medium for music. His Niroson Cinema 1.1 processing allows five drivers in a single, relatively compact speaker enclosure to create virtual L/R front and surround speakers. You place the cabinet atop or just below your TV screen, while the small subwoofer can go just about anywhere. (I put it against the wall a couple of feet to the right of my TV.)
Niro provides a pictorial setup guide, which is all you'll need. Two ribbon cables are attached to the speaker cabinet. A 15-foot cable goes to the DVD player/receiver, and a 12-foot cable goes to the sub - both have proprietary plugs that can be inserted only one way. The DVD/receiver is blessedly simple and uncluttered. Connect one of the three types of video output to your TV, attach the AM and FM radio antennas, and you're good to go.
Of course, you do have to contend with the 51-key nonuniversal remote control. I used that to delve into the setup menus to select the video output flavor and screen format. But since the 1.1 Pro is a single-enclosure design, there are no speaker "size" or distance-compensation settings, and you don't need to make individual channel-level adjustments. You can go from opening the box to reading the FBI warning on a DVD in less time than it takes to pop a bowl of popcorn.
LATEST VIDEO