NHT Endows Your Desktop With SuperPowers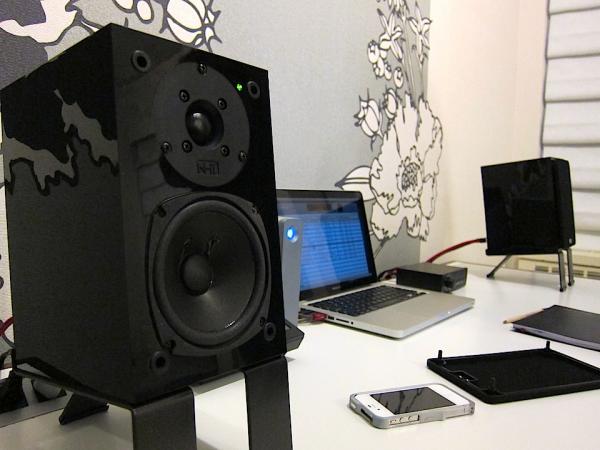 Since returning to independence under the leadership of founder Chris Byrne in 2007, NHT has moved on from its DSP-focused experimental phase (which resulted in interesting products like the Xd), emphasizing straightforward, high-quality, reasonably priced speakers. Things have changed on the business side too, especially since 2009, when the company transitioned from selling its speakers via traditional retail distribution to a direct Web sales model.
Since the launch of the Web store, NHT's most popular product has been the SuperZero 2.0 mini monitor, a update of the company's original 1994 2-way design.
NHT has reinvented the SuperZero yet again with the announcement of the SuperPower, which employs the same 4.5" woofer and 1" silk-dome tweeter in a sealed acoustic suspension design,in a slightly deeper cabinet (9" x 5 1/2" x 6 3/4"), which makes room for a 90W class D amplifier (designed for NHT by veterans of Bang & Olufsen's ICEpower division).
The overall concept owes as much to the NHT Professional line's popular (and soon to be discontinued) M-00 75W active mini monitor, though where that unit was intended for professional applications (with industial aesthetics, balanced connections, integrated heat sink, and configurable EQ for near- or mid-field placement), the new SuperPower is clearly designed as a consumer product, a simple way to build a personal listening system around a computer or iOS device (or whatever) and a few cables.
Not only does the SuperPower come in at $100 cheaper per unit than the M-00, it drops it's professional cousin's rear-panel connections and configurability in favor of a single RCA input, a power cord connector (there's an onboard power supply, no wall-wart here), and a handy power switch (the SuperPower is EnergyStar compliant in standby, and uses less power than a D battery). No bells and whistles, no docking, no wireless (NHT's been thinking about such things, says the company's John Johnsen, but for now prefers to let users bring their own wireless - these would be very nice companions, for instance, for a Sonos receiver, or an AirPort Express). A matching folded-steel stand (expected to cost in the neighborhood of $59/pair) will make desktop placement easy.
I got to hear a demo (conducted by John Johnsen) of a near-production SuperPower prototype (the speakers should be available around the end of December) in a Manhattan hotel suite last week, and true to the intended application the SuperZeros were set up as a desktop system, playing back a mix of MP3s and lossless files from a Mac (with a little low-end assistance from NHT's similarly miniature $349 Super 8 subwoofer). Since the SuperPowers lack controls, volume adjustments were handled by NHT's $99 PVC PC passive attenuator, which lets the Mac run at full output volume for best audio quality; also, the PVC is transformer isolated, keeping computer noise out of your speakers.
The SuperPowers sounded clear and detailed, reproducing a wide range of material well, and shining with loud rock tracks. Having spent a lot of time with SuperZeros, M-00s, and Twos over the years, I've always felt NHTs handled mids - guitars and rock and pop vocals in particular - well, and these are no exception. The new speakers played impressively loud without strain, with reasonable low-end extension (NHT gives the lower limit of the speaker's frequency response as 72 Hz) even without the sub engaged, though things were noticeably punchier once the Super 8 was switched in.
The SuperPowers do have some limitations, though. They do sound their size, and the speakers don't really disappear into the room as effectively as I'd like them to - which just makes me want to hear a powered speaker from NHT built around the 6.5" driver used in the Classic Two and Three.
According to Johnsen, while NHT's core business will remain passive speakers for the forseeable future, we're likely to see new development in this direction from the company. But whatever comes down the pike, the powered speaker has certainly come into its own since the M-00 was introduced, and NHT has an excellent budget option if you're in the market this holiday season.