New Upgrades to Chromecast, Roku 4, Hulu, YouTube, and Amazon Prime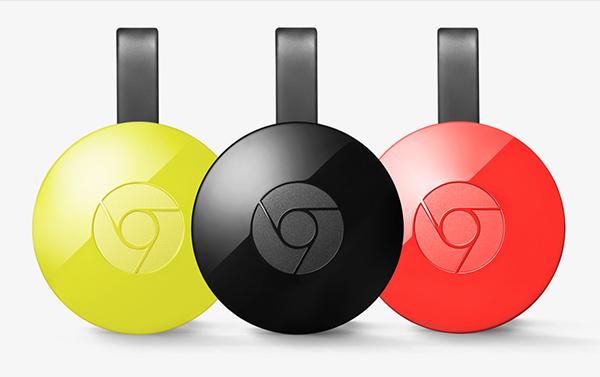 It's an exciting fall in the streaming world. Google has already released its second generation Chromecast with an updated controller app and new partners. Roku has started taking pre-orders on the Roku 4 which, like the new Fire TV, can stream 4K video. There is big news on the streaming content side too. Hulu is offering a No Commercials subscription. Paramount pictures has a YouTube channel that includes over 100 full length feature films. And, Amazon Prime now offers offline viewing.
Chromecast
There are two models in Google's second generation Chromecast line. The successor to the original Chromecast is the same low $35 price, and has a few inner upgrades that make streaming more reliable and reduce latency. It's the outside redesign that is most noticeable as a departure from the typical stick dongle. The new Chromecasts are round and come in a choice off three colors. The HDMI connection is built-in but now a small flat cable sticks out from the disk. It seems that the direct connection of a stiff, fat dongle would block other HDMI ports on the TV and having a built in extended cable solves that problem. Google knows the small disk will be easy to take with you and has included a magnet on the cable to hold it neatly against the disk when it's not attached to a TV. It still requires a separate micro USB cable (included) for power.
The Chromecast app for Android and iOS has also been redesigned. Originally, the app's purpose was to set up the dongle and you had to find the apps that could cast to it. The updated version includes a sampling of recommended TV shows, movies and videos displayed under YouTube, Netflix, Hulu, Crackle, and CBS. Tapping on a title opens the streaming service app and immediately starts playing the video which can be cast to the Chromecast. Tapping on a partner streaming service icon will open the app. Google has expanded its list of partner apps that can stream from phones and tablets to include CBS, Nick, VUDU, Watch ABC, WatchESPN, MLB At Bat, and CBS Sports. Sling TV, NBA, NHL, and BTN2Go are coming soon.
While there have been in improvements in processing and connectivity including 802.11AC with MIMO (for direct signal beaming), the new Chromecast still tops out at 1080p video. The Roku will also include 11AC with MIMO and a faster processor but it can stream in 4K.
The second model is the Chromecast Audio. As its name implies, it can only stream audio (but still has the same $35 price tag). It comes with a 3.5mm line audio cable that plugs into the disk and into a speaker or receiver. Using an RCA to 3.5mm adapter, Chromecast Audio can connect and stream through an amp or sound system. With so many Bluetooth-enabled sound systems and speakers, it seems like an unnecessary device. Still, it's an inexpensive way to upgrade a system or speaker that doesn't have wireless capabilities. Using Wi-Fi instead of Bluetooth, the music can be controlled from anywhere in your home network. Chromecast-compatible audio apps include Spotify, Google Music, Pandora, Rdio, 8Tracks, iHeart Radio, and Plex.
Roku
Joining the next generation of Fire TV in the ability playing 4K content, the Roku 4 is available for pre-order to be shipped later in October. Roku has an expanded roster of streaming services from which it can play 4K content—Netflix, M-Go, Amazon Instant Video, Toon Goggles, Vudu, and YouTube—which means there will be more 4K content available on the Roku 4 than any other player or TV.
A UHD category in the Roku Channel store will make it easier to find new 4K channels as they become available. The 4K Spotlight channel will highlight the most popular 4K titles for instant access. Existing Roku models will receive an update to the newest Roku operating system, which will bring a number of new features. The most significant upgrade is the addition of Hotel and Dorm Connect. This allows for a Roku stick or player to bring up a web browser sign-in that is typically required to connect to Wi-Fi in hotels and college dorms. Users connect their Roku device to the password-protected network by entering the login credentials into the browser on their mobile phone, tablet or laptop, and they're ready to start streaming.
Hulu
This fall has also brought significant new features to streaming services. For cable cutters and others who have shunned Hulu because TV shows have so many (un-skippable) commercial breaks, a new No Commercial upgrade may be the solution. For an additional $4 per month, users can choose to eliminate the commercial interruptions during TV episodes. Some content providers still require the addition of commercials (notably ABC shows). Those shows will include a commercial at the beginning and end of the show. Still, there are no commercials during playback to interrupt the flow of the episode.
Amazon Prime
Most music services include a premium feature that allows downloading music to a mobile device to enjoy when not connected to the Internet. Amazon Prime is the first streaming subscription service to allow downloading of Prime movies and TV shows to mobile devices for offline viewing.
YouTube
If you are looking for free streaming of full-length features, Paramount pictures has added the Paramount Vault channel. Over a hundred full-length movies have been added, most of which are lesser known titles or Elvis movies. A few recognizable movies can be found including Ironweed with Jack Nicholson, or The Nutty Professor with Jerry Lewis, but you'll have to peruse the list to find titles of interest.
Paramount has also added a number of quality classic clips from movies including the scene were Rosemary first sees her baby in Rosemary's Baby, the drunk scene in Airplane!, and the "Now, that's a knife" scene fro Crocodile Dundee.
And while you'll be able to stream the Paramount videos and commercial-free Hulu TV shows to the Chromecast, Amazon doesn't appear to be joining the list of cast-able apps anytime soon. In fact, Amazon announced that it won't sell the next version of Google's Chromecast and the Apple TV on the Amazon marketplace. However, it will continue to sell Roku, including the upcoming Roku 4.
It's turning out to be a busy fall as the next couple months I will be testing and reviewing the 4K Fire TV, the Chromecast models, the Roku 4, and (when it's released) the new Apple TV.