New TV for Super Bowl XLVI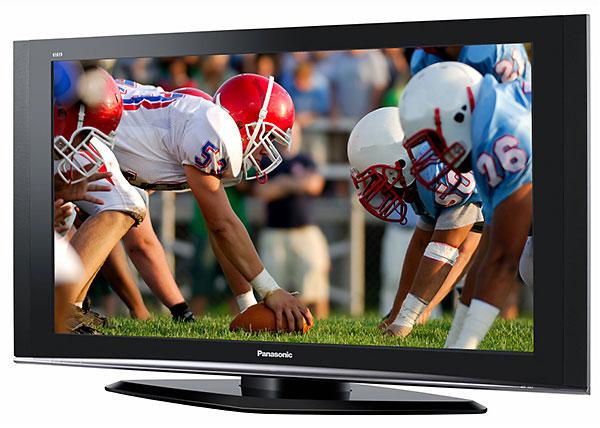 I need a new big-screen TV for the big game. I can afford between $2000 and $2500. I was told that plasma is way better than LCD, so I have spent about three weeks researching my options. I finally narrowed it down to either the Samsung PN64D7000 or Panasonic TC-P65ST30.
I promptly went to BrandsMart just to look at the two and finally decide which one. Of course, BrandsMart had neither model, but then the salesman tried to sell me on LED, which I had not researched before. He said plasma technology is on its way out and LED was the wave of the future, and that the Sharp LC-70LE735U was what I needed. What's your take on this?
Also, does it make sense to buy the same brand of TV, sound system, and Blu-ray player? Lastly, not being a techie, is it really hard to connect all three?
Rich Mickiewicz
I completely disagree with the salesman that plasma is on its way out, though it is true that plasma represents a relatively small percentage of the flat-panel market. Overall, LCD TVs (which include those labeled as "LED TVs") use various tricks to overcome problems that plasma doesn't suffer from in the first place—for example, frame interpolation to sharpen motion detail and local dimming of LEDs to improve blacks and contrast. Plasma will give you sharper detail in fast-moving objects without frame interpolation—which also makes the image look somewhat unnatural—so it's usually the better choice for sports fans.
Another factor is viewing angle. With a plasma, people can be far off center and still see a good-looking image, whereas virtually all LCD TVs look washed out if you're more than 30 degrees or so off axis. Thus, a plasma is much better for a large crowd. On the other hand, LCDs typically produce much more light than plasmas, so they do better in lots of ambient light.
The Sharp LC-70LE735U uses LEDs in an array behind the LCD panel, which is better than using LEDs along the edges of the screen as most LED-LCD TVs do. However, that model does not offer local dimming, in which the LEDs behind dark portions of the image are dimmed while the LEDs behind bright portions are brightened. As a result, the contrast is likely to be not that great, though we haven't reviewed this set.
Of the two plasmas you mention, we've reviewed the Panasonic ST30, which is a great performer. We haven't reviewed the Samsung D7000 plasma, but we did review the step-up D8000, which is also superb. The list price of the PN64D7000 is $400 more than that of the TC-P65ST30, which could be a deciding factor. For more TV shopping tips before the big game, click here.
Buying the same brand of TV and Blu-ray player might provide better integration of their operation—the remote for either one will probably control them both. On the other hand, both will probably include online-streaming apps, which will be the same if they are from the same company. That's why I generally prefer to get a Blu-ray player from a different company, which will offer a different set of apps, giving you a wider selection across the two devices and a choice of which one is better in this regard.
In my view, it's not important to buy the sound system from the same manufacturer as the TV. You want the best sound quality you can get for your budget, and that doesn't necessarily come from the big TV companies. I suggest a good audio/video receiver (AVR) and 5.1 speaker system; see our Top Picks for AVRs here, compact speaker systems here, and floorstanding speaker systems here.
If you're not a techie person, a home theater in a box (HTiB) offers a simpler alternative, with everything you need in one box (except a TV), including color-coded wires to make connections easier. Many HTiBs also include a Blu-ray or DVD player. However, these systems are not very expandable, and we haven't found an HTiB with high enough sound quality to recommend lately.
Connecting a system with a TV, Blu-ray player, AVR, and speakers isn't difficult. Connect the HDMI output from the Blu-ray player to one of the HDMI inputs on the AVR (which might have an input labeled "BD" or "Blu-ray"), connect the HDMI output from the AVR to one of the HDMI inputs on the TV, and connect the speaker outputs from the AVR to the corresponding speakers (front left, center, front right, surround left, surround right). The AVR should also have a subwoofer or LFE output that uses an RCA jack; connect that to the RCA input on the subwoofer.
Then, assuming you have a subwoofer, go into the AVR's menu and specify all main speakers as "small" and the crossover at 80Hz (which it might be by default). Alternatively, if the AVR has an auto-setup system such as Audyssey, that will set up the speaker configuration automatically.
Finally, sit back and enjoy the game!
If you have an A/V question, please send it to askhometheater@gmail.com.