New Sanus Tilt/Swivel Mounts Add Flexibility to Sonos Era Series Speakers
Sanus, the Minnesota-based company specializing in mounts and accessories for TVs and speakers, has introduced adjustable wall mounts designed specifically for the new Sonos Era 100 and
Era 300
wireless speakers.
Sold individually or in pairs, the mounts tilt up and down and swivel side to side, allowing listeners to easily aim the speakers for optimal sound.
The mount for the Atmos-enabled Sonos Era 300 speaker swivels up to 32° in left or right and can be tilted up 4° and down 32°. The Sonos Era 100 mount is more flexible because the speaker is smaller: it swivels up to 73° in either direction and can be tilted up 7° and down 32°.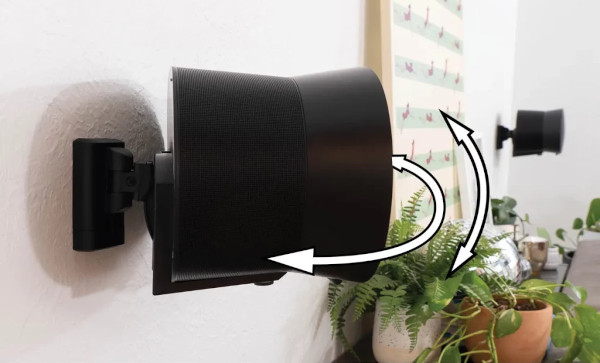 The speaker is secured to the mounting bracket via threaded inserts and the power cable is routed from through the bracket and into the wall for a tidy appearance. Mounts can be secured to drywall (1/2-inch minimum), wood studs, or concrete and Sanus says installation takes only 15 minutes.
Pricing for a pair (WSWME32) of Era 300 mounts is $100 or $60 for one (WSWME31). Pricing for two (WSWME12) Era 100 mounts is $80 or $50 for one (WSWME11). The adjustable wall mounts are offered in black or white and covered by a 5-year limited warranty. For more information, visit sanus.com.
WHERE TECHNOLOGY BECOMES ENTERTAINMENT