New Roku Ultra Streamer Adds Dolby Vision HDR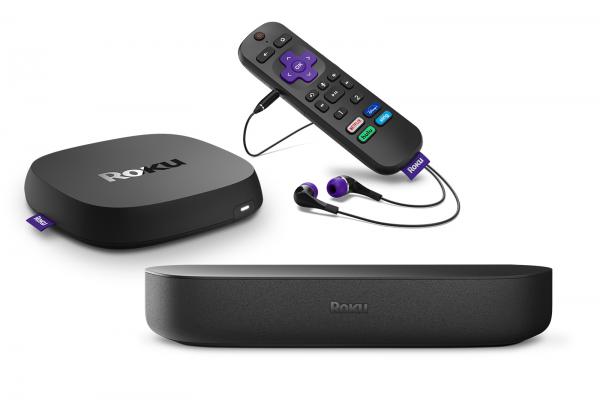 This year's Roku fall lineup is a bit more interesting than in the past as the company has added new products and OS features aimed at A/V enthusiasts. The Roku Ultra streamer has been redesigned for better sound, video, and overall performance. The new Streambar is a hybrid Roku player and TV soundbar in a compact form. And updates to Roku OS 9.4 add some useful features.
Roku Ultra ($100)
While the new Roku Ultra looks like its predecessor on the outside, hardware improvements and enhanced format compatibility make this a solid choice as the main streaming player for a home theater. It will now play 4K content with Dolby Vision high dynamic range as well as HDR10, and is also compatible with Dolby Atmos soundtracks. The addition of Bluetooth makes it possible to stream audio to the Ultra from mobile devices.
Roku has improved the Ultra's wireless reception for up to 50% more range. In other words, you won't have any issues if you're streaming video to it from a far-off bedroom or from upstairs. It also has a quad-core processor for snappier navigation and loading.
The Ultra comes with a new Roku voice remote. Like earlier models, it has a headphone jack for private listening and works with Ultra's remote finder. This new remote also has two personal shortcut buttons that can be programmed to perform a specified voice command action with a single, quick press. 
A High-Speed Premium HDMI cable is included in the box with the Roku Ultra, which is available for pre-order now, with delivery expected in mid-October. 
Roku Streambar ($130)
The Roku Streambar follows in the footsteps of its big brother, the Roku Soundbar. Like the Soundbar, it has a built-in Roku streamer capable of 4K/HDR playback. It's also wireless and can be easily paired with Roku Wireless Speakers and the Roku Wireless Subwoofer for a surround experience that takes advantage of its Dolby Audio True Surround sound capabilities. 
The compact size of the Streambar is what makes it unique. At about 14 inches wide, it's barely larger than an egg carton and has four 2.4-inch speakers. Two are front-firing, the other two are angled toward side walls to create a virtual surround experience. "Advanced audio engineering" in the Roku OS improves speech clarity and music depth, and it can level out audio dynamics for night listening.
The Streambar has Bluetooth support to stream from mobile and other devices, along with AirPlay2 support. Spotify Connect makes it easy to switch from the Spotify app on your mobile device and stream directly from the Streambar.  

Both a High-Speed Premium HDMI and optical cable are included in the box with the Roku Streambar, which is available for pre-order now, with delivery expected in mid-October. 
Roku OS 9.4 Update
The Roku OS 9.4 update will be rolling out this fall for all devices and Roku TVs. It includes welcome new additions like Apple AirPlay and Siri voice control support, along some fun new themes.
As an Apple user, I'm particularly looking forward to the addition of AirPlay in Roku OS 9.4. iOS users will find their Roku players and Roku TVs listed among available AirPlay devices. With AirPlay, users can mirror an iPhone or play videos from an iPad or Safari Browser on a Mac. Airplay becomes essential as Roku has been a holdout for channels like Peacock (now available on Roku) and HBO Max. The update includes other Apple features including compatibility with Apple HomeKit and Siri voice control.
With the new additions, Roku devices are now the first to accept commands from all three voice assistants: Amazon Alexa, Google Assistant, and now Siri.  
Another new feature is just for fun. Updated and new theme packs for the home screen and screensavers add sound effects and animations. Instead of the usual "click, click" as you scroll through the menus, there will be ricocheting bullets in the western theme or the "glug, glug" of bubbles in the water theme.  
The Roku App on phones is also being updated and will now include playback of content from the Roku channel. The content includes 115 channels of "live TV." You don't have to own a Roku device to use or watch videos on the Roku App. 
Special Deals from Roku Partners
If you are on the fence about buying a Roku, here are some partner incentives that might help you decide. 
3-Month Free Trial Pandora Premium: Consumers who purchase a Roku device from September 25 – November 6th and redeem by November 8th, 2020, will be eligible for a 3-month trial of Pandora Premium. Pandora Premium gives users on-demand music, ad-free listening, and much more. The total value: $29.97.
3-Month Free Trial Apple TV+ : Eligible customers who purchase and activate a Roku device from October 23, 2020, to January 31, 2021, will receive a promotional code to enjoy three months free of Apple TV+. This offer for Roku customers is available to new Apple TV+ subscribers only and must be redeemed by February 2, 2021.
30-Day Free Trial SHOWTIME, STARZ + EPIX : Redeem the 30-day free trial available via The Roku Channel, good from now until October 4, 2020, with the purchase and activation of an eligible Roku device. Total value: $25.97.