New Products -- May 2003
Denon
The first universal player from Denon, the DVD-2900 will play both DVD-Audio discs and Super Audio CDs, and it has Dolby Digital and DTS decoders, too. It's said to provide digital bass management for both high-res audio formats, and there's a progressive-scan component-video output with 2:3 pulldown to compensate for differences in the frame rate between film and video material. If you have a disc full of JPEG photos, just plop it in the tray to see them onscreen, plus the player can read Kodak Picture CDs, CD-Rs, CD-RWs, CDs with MP3 files, and DVD-R/RWs. A 16-megabyte (MB) buffer prevents image freeze-ups when changing layers on a dual-layer DVD. There are two composite/S-video outputs and both optical and coaxial digital audio outputs. Price: $999.
www.usa.denon.com
, 973-396-0810
Definitive Technology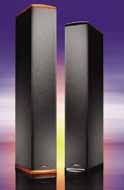 From its 14-inch subwoofer to its 52 1/2-inch height, there really isn't anything small about Definitive Technology's BP7000SC flagship speaker. A Class D amplifier-rated at 1,800 watts-powers the subwoofer, which is combined with a pair of 14-inch passive radiators. The bipolar tower has front- and rear-mounted driver arrays, each with a pair of 6 1/2-inch woofers and a 1-inch aluminum-dome tweeter in between. Rated bandwidth is 11 Hz to 30 kHz, and the footprint is 9 x 16 5/8 inches. The BP7000SC's "little" brother, the BP7001SC (right in photo), with a 10-inch subwoofer and passive radiators, is rated down to 13 Hz. It stands 4 feet tall, and its built-in amp is rated to deliver 1,500 watts. Both come in a gloss black or cherry finish. Prices: BP7000SC, $2,499 each; BP7001SC, $1,749 each.
www.definitivetech.com
, 410-363-7148
Kenwood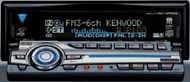 If you think the LCD readout on your car stereo is too small, Kenwood's KDC-MP922 CD receiver will help you see clearer. Its motorized faceplate slides down to make room for an extra-large color display, and when it closes, the faceplate flips inward to show only a blank, black panel-nothing any thief would be interested in. The head uses SRS WOW audio processing to create surround sound from stereo sources. It's also said to elevate sound vertically if your speakers are near the floor. Dual-zone operation lets you feed sound from different sources to the front and rear seats. Dedicated jacks let you hook the receiver directly to separate tuners for HD Radio (see page 66) and Sirius satellite radio, and the CD player can read MP3 files on CD-R or CD-RW discs. The amplifier section is rated to deliver 50 watts to each of four channels. Price: $480.
www.kenwoodusa.com
, 310-638-9000
Outlaw Audio

The Outlaw Audio Model 200 M-Block power amp can feed a back surround channel in your home theater with watts to spare. It's rated to deliver 200 watts continuous into an 8-ohm load, from 20 Hz to 20 kHz, with less than 0.05% total harmonic distortion. Its proprietary hybrid Class AB/G design is said to operate as Class AB up to 80 watts and transition to Class G within 2 microseconds whenever it needs to put out more power. The efficient design makes a noisy cooling fan unnecessary, and the amp measures a slim 17 x 1 3/4 x 11 1/2 inches; weight is 18 pounds. In standby mode, either a standard trigger or an audio signal at its RCA jack will bring the amp to life. The output connectors are gold-plated multiway binding posts. Price: $299.
www.outlawaudio.com
, 866-688-5297
Belkin
As your home theater grows, so does its demand for power-and the outlets that supply it. When they start to become scarce, it's time to cast your eyes on a surge protector like Belkin's PureAV Isolator, designed with A/V systems in mind. It has a 12-foot power cord and ten outlets, widely spaced to accommodate the girth of AC adapters, and it's rated to protect against sudden, powerful surges (up to 4,720 joules). There are also phone-line jacks with a built-in splitter and two pairs of gold-plated RF connectors for cable, antenna, or satellite signals. Three colored LEDs indicate whether protection circuitry is operating and can warn you if there is an outlet wiring fault. Grooves along both sides let you tuck away the cables. Price: $100.
www.belkin.com
, 310-898-1100
ATC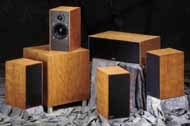 Want your home theater speakers to have a personal touch? The hand-built designs of the Concept 1 system from ATC of England may fit your order. The 5.1-channel system comprises four 11 3/4-inch-tall SCM7 speakers for the front L/R and surround positions, a C1C center speaker, and the C1 subwoofer. Rated for a frequency response of 60 Hz to 20 kHz -6 dB, the SCM7 has a 5-inch midrange/woofer and a 1-inch tweeter. The C1C center speaker measures 23 5/8 x 6 3/8 x 8 1/8 inches and has a pair of 5-inch woofers. The C1 sub, with a 9-inch driver powered by a 250-watt amp, is rated from 20 Hz to 250 Hz -6 dB. The system comes in cherry or rosewood real-veneer finishes. Prices: cherry, $4,300; rosewood, $4,800.
www.atc.gb.net
, 888-653-5454
CinePanel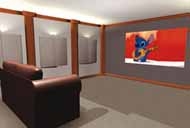 When you consider the effect of standing waves and unwanted room reflections, sometimes sound itself can be the worst enemy of good audio. But with one of PMI's CinePanel acoustic-treatment kits in your viewing room, you may conquer the enemy yet. The kit consists of 10 to 20 wall panels (depending on room size), arranged in pairs with an absorber and a diffuser, each about 2 x 4 feet and sloped from 2 1/2 to 4 inches thick. The absorbers are made of wool covered in fiberglass, while the diffusers are made of polyethylene with a low acoustic resonance. Various colors and fabric styles are available to match your décor. Can you hear me now? Good! Prices: $2,318 to $4,637.
www.cinepanel.com
, 415-454-2087
Sima
Are you at the point where you need a separate coffee table for your remote controls? Time for a universal model like Sima's SUR-25, which combines "soft" touchscreen controls with "hard" buttons. It can operate up to ten components and has both a built-in database of codes and can learn them from your existing remotes. You can store 100 macro command sequences, each with up to 60 commands set in motion with one button press. The 256 kilobytes of flash memory will retain all of your programming even when the four AA batteries die. A Quick Channel feature can group your favorite TV channels into categories like Sports or Movies. The SUR-25 measures 3 1/4 x 7 3/8 x 1 1/4 inches and weighs 12 ounces. Both the hard buttons and the screen are backlit. Price: $120.
www.simacorp.com
, 800-345-7462
Sampo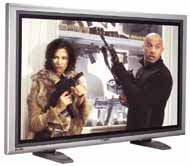 Plasma TV prices are on their way south, and the latest trailblazer is Sampo's PME-50X6 HDTV monitor. For the tidy sum of $6,999 you get 50 inches of plasma capable of displaying high-definition images. The widescreen panel's native resolution is 1,366 x 768 pixels, and you can feed high-def signals to the set's DVI, VGA, or two component-video inputs. The built-in line doubler has 2:3 pulldown processing to compensate for the different frame rates of film and video, and watching two programs at once is easy with either the picture-in-picture or side-by-side picture functions. The set also has built-in speakers with a virtual surround sound feature. An optional NTSC tuner module costs $300.
www.sampoamericas.com
, 866-726-7622
MusicTote
Okay, you're the President of Cool at the beach with your high-tech portable MP3 player, but how can you share the music with the pretty young thing the next towel over? Answer: the MusicTote portable speaker system, whose cable plugs into the headphone minijack of your portable player to feed sound to its detachable speakers. The compact system measures 12 x 8 1/4 x 3 1/2 inches and weighs only 2 3/4 pounds without any cargo, but there's room for plenty of CDs. And be sure to bring along an extra 9-volt battery if you plan to use it longer than about 5 hours. The onboard amp is rated to deliver 1 watt continuous (25 watts peak) to each speaker, whose oval-shaped drivers measure 3 x 1 3/4 inches. Price: $30.
www.musictote.com
, 800-255-6702
AudioControl
With its library of more than 100 command protocols and an RS-232 control interface, AudioControl's Maestro processor is well suited for custom-installed home theaters. The THX Ultra2-certified processor can decode 6.1-channel Dolby Digital EX and DTS-ES soundtracks and has Dolby Pro Logic II and DTS Neo:6 processing for multichannel playback from stereo sources. The processor has an eight-channel analog audio input for hookup of a Super Audio CD or DVD-Audio player. The three wideband component-video inputs allow easy switching of HDTV or progressive-scan DVD signals, and you get five composite/S-video inputs, too. There are A/V outputs for a second zone. Price: $5,995.
www.audiocontrol.com
, 425-775-8461
Proficient
Creating a stereo image with outdoor speakers is a challenge, but Proficient's AW500TT speaker rises to the occasion by combining the two channels into one cabinet. Its 5 1/4-inch dual-voice-coil woofer is said to provide smooth, deep bass response by combining the left- and right-channel midrange and low-frequency signals. Both 1-inch soft-dome tweeters can pivot, and there are two pairs of gold-plated binding posts. Rated frequency response is 38 Hz to 20 kHz -6 dB. The speaker comes with a powder-coated aluminum grille and a zinc-coated mounting bracket. Price: $225 each.
www.proficientaudio.com
, 909-787-9940