New Gear: Yamaha Debuts Two RX-V Series Networked AVRs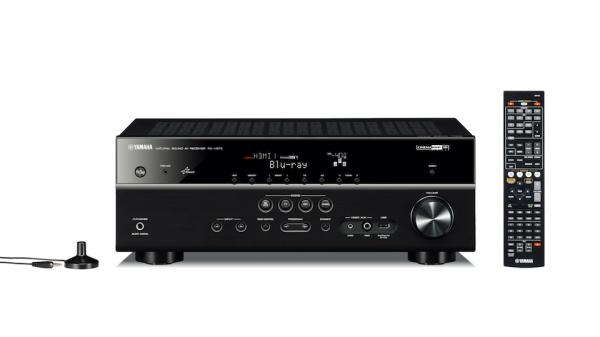 Seems like not a week goes by without a major manufacturer rolling out a clutch of new and improved AVRs, and this week is no different.
Yamaha has given its latest entry-level 5.1 unit, the RX-V373, a pair of bigger and more wirelessly enabled sibs, 5.1 channel RX-V473 ($449.95) and the 7.1 RX-V573 ($549.95). As it was with the 373, the buzzword here is 4K - like the previous unit, both of these new RX-V models offer 4K pass-through (as well as 3D pass through, and audio return channel), simplying your interfacing with future equipment (well, at least future equipment that's forseeable given current technology). So if you need a new receiver, but you're looking for a way to economize while you're saving your pennies for ultra-high-rez video gear, here's an opportunity.
Beyond that, we're looking at the bursting menu of options that's become typical of contemporary midrange AVRs - analog inputs for your analog sources (should you still have anything like that around); plenty of HDMI connectivity for your video needs; decoding of Dolby TrueHD, Dolby Digital Plus, DTS-HD Master Audio, and DTS-HD; 24/192 Burr-Brown DACs on all audio channels; front-panel USB ports for easy access to playback from thumb drives and iOS devices; controller apps for both iOS and Android; etc., etc.
Should you not have much in the way of audio sources in your current roster, no worries: the 473 and 573 add AirPlay and DLNA support, for wireless playback from your mobile devices or NAS, along with Intenet radio tuner capability via vTuner, so coupled with the speakers of your choice, they're plenty capable on their own, so long as you have digital music stored or subscribed to someplace. There's even what the comany calls a "Compressed Music Enhancer" algorithm for your low-bit-rate files. Also on tap is Yamaha's YPAO room analysis and setup routine (the receivers include the setup microphone); bass management features, and automated dynamic range control (read "Night Mode") for when you need to keep the volume down and still want to be able to understand dialogue tracks.
Overall, a nice range of features for a nice price, so if you're looking to power a 7.1 or 5.1 system that leans digital, and you don't want to break the bank, Yamaha might have your AVR.