New Gear for the Waning Days of Summer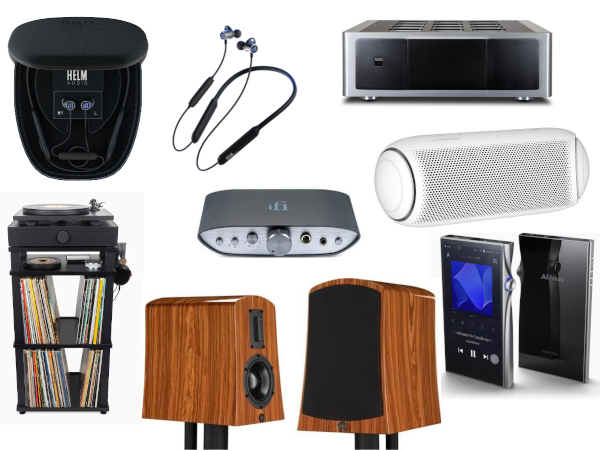 The summer of 2020 has seen a sizable flow of new gear as A/V makers look to regain their footing after months of pandemic lockdown. Here we highlight a handful of recent introductions with an emphasis on those designed to make outdoor life a little more enjoyable.
LG XBoom Go PL Water-Resistant Bluetooth Speakers
LG has once again tapped into its alliance with the audio gurus at U.K.'s Meridian, this time to expand its XBoom Go line of stylish portable Bluetooth speakers with three new splash-proof models. The PL7W (shown, $180), PL5W ($130), and PL2 ($60) boast "enhanced bass and clearer vocals for an exceptional listening experience" plus extended battery life that promises to keep the tunes flowing for up to 24 hours in the top model; rated play time is 18 hours for the PL5W and 10 hours for the PL2.
The two pricier models boost bass by pairing each of their two mini woofers with a passive radiator, while the super compact 5-inch-long PL2 adds a single passive radiator to its lone woofer. The 10-inch-long PL7W also has dual tweeters to heighten treble detail and project a wider sound stage.
Want to pump up the volume and add a little pizzazz to your pool party? No problem. You can link two XBoom speakers together, and the PL7 and PL5 have multi-color LED lighting that pulsates to the beat of the music.
All models support voice commands via Google Assistant and Siri and double as a speaker phone. You can also use LG's smartphone app to control the lighting effects and adjust the sound via an equalizer. Visit lg.com for more information.
Astell&Kern SE200 Portable Music Player
Don't leave your hi-res music files locked away in a server at home — take them with you wherever you go. Astell&Kern has expanded its high-end A&futura line with the SE200 ($1,799), hailed as the first digital audio player that lets you switch between ESS and AKM digital-to-analog converters (DACs) and customize the sound by applying one of six different filters. Each DAC is mated with a custom amplifier to further optimize performance.
The aluminum-encased player is built around a super-fast octa-core CPU and supports 32bit/384kHz, DSD256, and MQA playback (from downloads or MQA Masters tracks streamed over Tidal). Power output has also been increased for more nuanced sound with lower noise and distortion. Internal memory is 256 gigabytes (GB), expandable to 1 terabyte (TB) using a microSD card, and in addition to supporting aptX HD-enabled Bluetooth, the SE200 sports a USB audio output and USB-C port for charging and data transfer. Different color LEDs indicate which DAC is running as well as the bit rate of the currently playing track, displayed on the player's spacious 5-inch touchscreen.
The glass rear cover used on the SE100 has been replaced with one made of ceramic, which is said to improve wireless performance and give the player a more ergonomic feel. Supported streaming services, which must be added via the Open App service, include Tidal, Qobuz, Apple Music, Amazon Music, Spotify, and Deezer. Rated battery life is 14 hours when running the ESS converter and up to 10 hours with the AKM. Visit astellnkern.com for more information.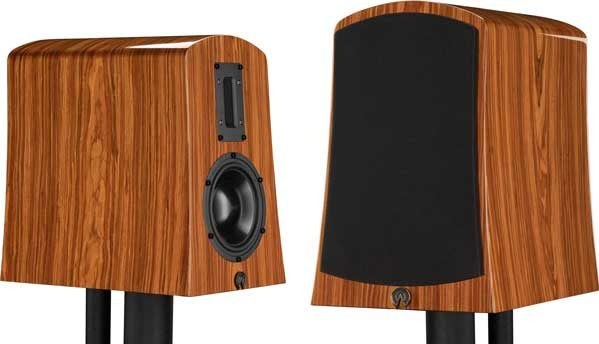 Alta Audio Alyssa Speaker
Who says speakers have to be boring? Alta Audio, the Huntington, NY company started by veteran designer Michael Levy in 2013, has unveiled a beautifully sculpted, compact speaker that's built to sound like a much larger floorstanding model.
Alyssa ($5,000/pair) combines two proprietary drivers — a third-generation aluminum ribbon tweeter and 6-inch woofer featuring a titanium former (bobbin) — in a cabinet that's only 14.5 inches tall. The tweeter is designed for "exceptional clarity and dynamics," while the woofer incorporates a 3.1-inch voice coil and high-power hybrid neodymium magnet that work in tandem with Alta's XTL (Extended Transmission Line) bass tuning system to produce clean, powerful bass.
"The benefit of using titanium in the construction of a woofer can't be overstated," Levy explained. "It adds stiffness and is exceptionally light, allowing for a larger voice coil that ultimately contributes to a demonstrable improvement in sonics, especially when listening to analog and high-resolution digital recordings."
Instead of the traditional approach of lining the inside of the cabinet with padding to dampen unwanted resonances — which Levy says muddies the sound — Alyssa's walls are made of a multi-layered, multi-density material called DampHard instead of the usual fiberboard. Because the cabinet walls are "dead to virtually all vibration," Alta is able to reduce the amount of internal padding it uses, which is said to improve bass clarity and the overall dimensionality of the music.
"Alyssa is one of our greatest achievements in that we created a model that ranks with the most respected full-size speakers, yet it's no bigger than the average bookshelf monitor," Levy said. "I'm floored every time I hear it." The standard finish is high-gloss piano black but rosewood or beech (shown) veneer are also available. Visit alta-audio.com for more information.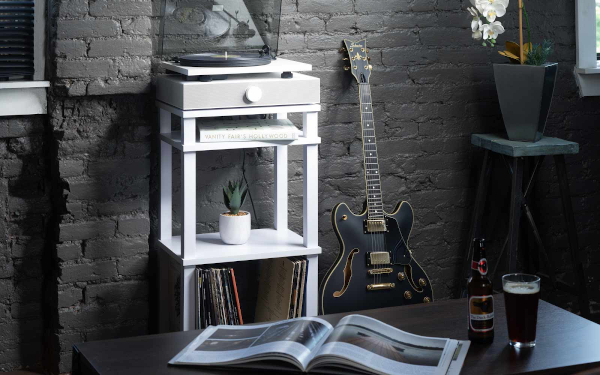 Andover Audio Spinstand Audio/Record Rack
Nothing like a good old-fashioned audio rack — in this case one that can support a turntable and hold up to 150 LPs — or half as many records and a couple of audio components. Made of engineered wood with metal-reinforced supports, the Spinstand is about 30 inches tall and can be configured with three or four shelves.
The stand is equipped with adjustable feet to keep it steady and comes with a nifty headphone hanger that can be mounted on either side. It ships in early September and is available in black or white. Visit andoveraudio.com for more information.