New Gear: Sonos Gets Down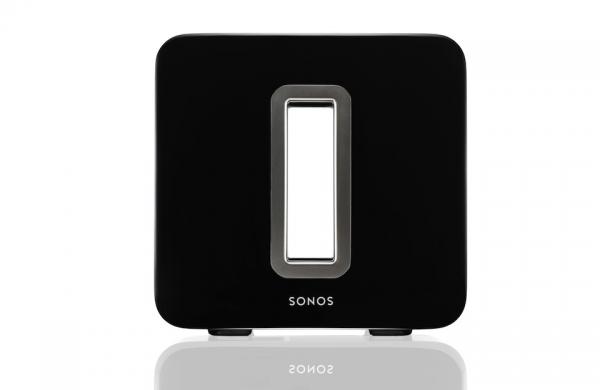 We've long been fans of Sonos' mesh-network wireless system; the company's range of products deliver great functionality at reasonble cost, and with a simple setup routine that rivals anything coming out of Cupertino, the system has gotten countless people into the notion of whole house audio. Sonos' recalibrated last year as a lower-cost-of-entry, more lifestyle-oriented (and, we could easily say, "youth-oriented") brand, and concurrently introduced the smaller Play:3, a friendlier and easier to place version of the flagship S5 Zone Player.
One thing's been missing from the equation though, and that's substantial bass. Til now.
The new Sonos SUB is a small, slim-profile wireless subwoofer, employing dual racetrack drivers, placed facing one another across the central port in a force-cancelling configuration. The drivers are powered by a pair of Class D amps, managed by the company's signature DSP, their output reinforced via two newly designed ports. The device speaks SonosNET, of course, and can be used as part of a system with any of the company's powered players (Play:3, Play:5, etcetera).
During our brief hotel-room demo (Sonos has been partnering with Cool Hunting to create a "Sonos Listening Library" installation at the Standard in downtown NYC's East Village) the SUB was quite impressive reinforcing a pair of Play:3's. Bass was more than ample - the selection of reggae tracks and other low-end-rich material showed off the devices strengths - I'd imagine it fitting right into the sort of small-to-medium-sized spaces that a pair of Play:3s would cover.
The automatic setup routine, accomplished via the Sonos Controller app (we saw the iOS version in action) is almost ridiculously simple. The app walks you through a grand total of two steps; results were more than adequate.
At only 15.8 x 6.2 x 15 inches, and weighing only 36.3 pounds, placement should be simple (it's slim enough to tuck in almost any available space, and Sonos tells us it can be used either standing or lying down).
Available for preorder now in a glossy finish, the SUB goes for $699. A matte version (matching the Play line) will soon be available for $599. Pretty attractive pricing if you're already invested in a Sonos setup.
LATEST VIDEO