New Gear Roundup: Spring 2022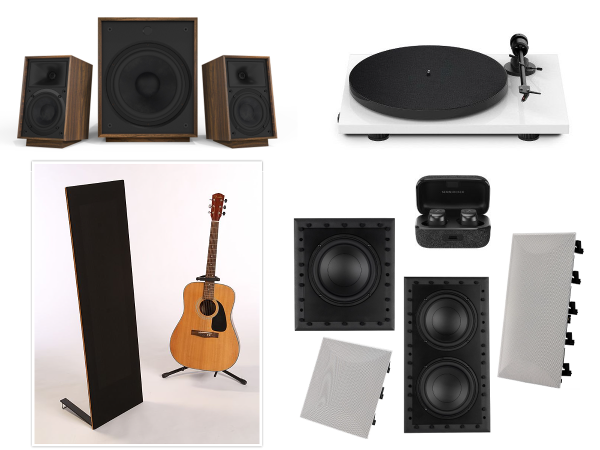 Depsite an ongoing labor shortage and supply-chain disruptions, which continue to plague industries across the board, new product releases appear to be holding steady as we ease into the floral month of May. Newcomers include a refined version of an affordable speaker from a classic high-end brand, reasonably priced turntables from a company that knows how to spin vinyl, and subwoofers designed to disappear in your walls…but first we want to share a few tidbits of recent news.
Organizers of the Florida International Audio Expo (formerly Florida Audio Expo) have announced that the show will return to Tampa in February 2023, following what will be a pandemic-driven two-year hiatus. Though it's still early, the show is set to take place at the Embassy Suites by Hilton (an hour's drive from Walt Disney World) with 12 floors of exhibits dedicated to high-performance audio equipment of every stripe. Details are here.
Meanwhile, Stewart Filmscreen, the California-based company that has been crafting high-performance projection screens since the golden age of Hollywood, has announced its acquisition by the private-equity group Shackleton Equity Partners. The company will maintain its manufacturing facilities and continue to be managed by its current senior management team in Torrance, according to press reports, but owner and manager Mary Stewart will relinquish her role.
Established in 1947, Stewart Filmscreen has received two Academy Awards and certifications from THX and the Imaging Science Foundation (ISF). The company told CEPro demand for its products has more than doubled in the past year, making this transaction an important step in increasing manufacturing capabilities, which suggests a much-needed cash infusion may be on the way.
Now onto the gear…
Magnepan Ups the Resolution of its Entry-Level LRS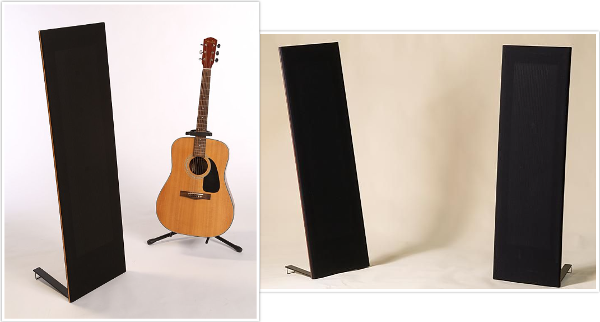 More than 50 years after founder Jim Winey developed an improved version of the electrostatic speaker he dubbed the Magneplanar, Minnesota-based Magnepan is still very much in the audio game, offering a full line of speakers based on that original design, including a $38,000/pair flagship. The company's latest project involves a "high-resolution update" of its entry-level LRS, a planar-magnetic panel speaker that, like all "Maggies," is dipole in nature and radiates sound from the front and back. In his 2020 review, Sound & Vision's Michael Trei called the LRS a "compelling gateway drug to the world of high-performance audio," one capable of delivering a "level of musical nirvana way beyond what its $650 price tag would suggest."
Short for Little Ribbon Speaker, the new LRS+ ($995/pair) lacks trim and is an inch or so narrower than its predecessor, according to long-time marketing manager Wendell Diller. Otherwise, it looks identical to its predecessor, standing 4 feet tall, 13 inches wide, and only an inch thick. (The photo shows the LRS because photography of the LRS+ was not yet available.) The difference between the LRS and LRS+ is enhanced sound quality — what Diller calls "top-to-bottom improvements in resolution that can be both measured and heard." And he's quick to point out that the secret behind those sonic enhancements will remain just that.
"We were backordered about 5 months on the LRS when the LRS+ was introduced," Diller notes, adding customers now have the option of ordering the LRS or the LRS+ through Magnepan or their nearest dealer (pricing is the same). For more information, visit magnepan.com.
Pro-Ject Rolls Out Phono Preamps & New Turntables
Turntable specialist Pro-Ject is strutting its stuff with an ambitious lineup of new gear that includes two phono preamps and four turntables, three of which belong to a new affordably priced line.
The new E1 series comprises three versions of the E1 turntable, which boasts a "true sub-platter design" with a low-mass synthetic main platter that rides on a belt-driven sub-platter made of high-density resin: The E1 base model ($349), the E1 Phono SB ($399), featuring a built-in phono preamp, and the E1 BT ($499), which has an onboard phono preamp and a Bluetooth transmitter for connecting wirelessly to Bluetooth-enabled soundbars, A/V receivers, and speakers.
All models have an 8.6-inch aluminum tonearm fitted with a factory-aligned Ortofon OM 5e phono cartridge and a spindle made of polished stainless-steel that rotates in a low-friction brass bearing well. The main bearing assembly for the E1 series is mounted in a base made of medium-density fiberboard (MDF) and wrapped in one of three durable finishes: high-gloss black, satin white, or satin walnut.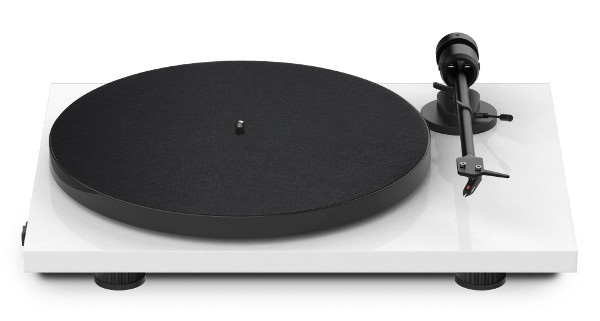 Moving up a few notches on the performance scale, the new X8 Evolution (shown in opening photo) was adapted from Pro-Ject's considerably more expensive Xtension 9/10 models and features a "perfectly balanced" aluminum platter with TPE (thermoplastic elastomer) damping. The platter is partially supported by opposing neodymium magnets (to decrease the load on the main bearing) and works in concert with an inverted ceramic ball bearing designed to keep rotations smooth and stable.
The X8 is fitted with a single-piece 9-inch carbon-fiber tonearm and includes a 5P semi-symmetrical DIN-RCA phono cable. Its heavy MDF chassis rests on height-adjustable isolation feet made of damped aluminum. Finish options are the same as the E1 models. Pricing is $2,499 without cartridge or $2,699 with a factory-installed Sumiko Blue Point No.3 phono cartridge.
All four turntables are designed and manufactured in the European Union and include a detachable acrylic dustcover.
Rounding out Pro-Ject's new offerings are the Phono Box S3 B ($499) and Phono Box DS3 B ($799, shown in opening photo). Both of the outboard phono preamps are housed in a steel/aluminum chassis offered in black or silver and provide the choice of standard RCA or balanced XLR inputs and outputs. They also include a subsonic filter (18dB/octave at 20Hz) and support moving magnet (MM) and moving coil (MC) phono setups with dual-mono circuitry and a discrete, fully symmetrical gain stage.
The S3 B has buttons on its front panel with four settings for gain and input capacitance and five settings for input impedance. The step-up DS3 B adds two additional gain settings and the choice between fixed (47k ohms) and variable (10-1000 ohms) input impedance, the latter controlled by a knob on the front panel. Wood side panels are available as an option.
Pro-Ject products are distributed in the U.S. by Sumiko. For more information, visit projectusa.com.
Monoprice Introduces First In-Wall Subwoofer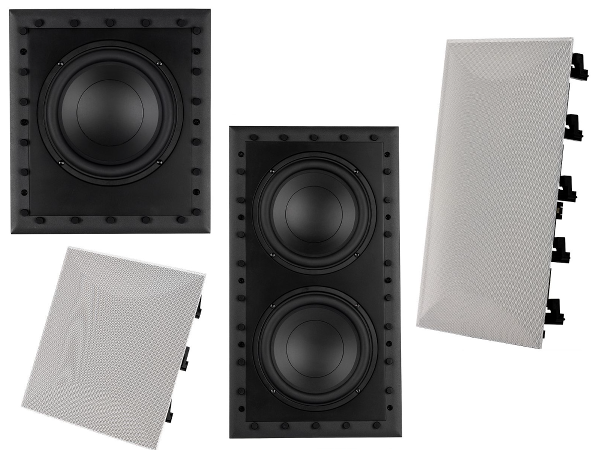 Monoprice shows no signs of letting up with the continued expansion of its popular Monolith line of affordable A/V gear. The latest addition bolsters the subwoofer lineup with the brand's first subwoofers designed for mounting in a wall or ceiling.
The M-IWSUB8 ($400) situates a single 8-inch polypropylene woofer in a shallow frame designed to fit between standard 16-inch on-center studs with heavy-duty mounting tabs that ease installation by locking the frame in place. The M-IWSUB82 ($600) deploys two of the same 8-inch drivers to achieve higher sound-pressure levels (SPLs).
Both models are designed to accommodate retrofit or new-construction installations and have a rated frequency response of 36-200Hz ±3dB with a high sensitivity spec of 91dB (1W/1m) for easy pairing with a variety of amplifiers. Additional specs include a nominal impedance of 4 ohms and a 120Hz (12dB/octave) fixed crossover. Spring-loaded binding posts are provided along with a paintable white grille cover that attaches magnetically to the mounting frame.
With grilles in place in a finished installation, the M-IWSUB8 is 13.3 inches high and 11.9 inches wide; the dual-driver M-IWSUB82 is 21.3 inches high and 11.7 inches wide. For more information, visit monoprice.com.