New Gear: Late Summer 2022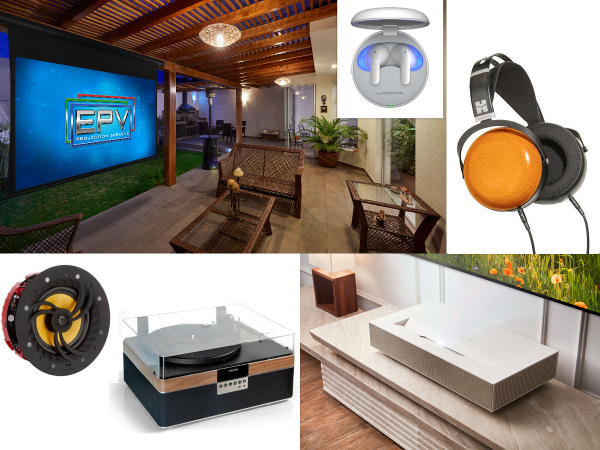 One way to take your mind off the dog days of August is to browse through the latest set of new product offerings in audio and video. As you read up on these projectors, earbuds, speakers, record players, headphones, and outdoor screens, just drop a fistful of ice cubes into a tall beverage of your choice.
Home Theater/Audio Buffs Invited to Product Jubilee
If you happen to be in Raleigh, NC, Friday, August 19, through Sunday, August 21, you might want to take advantage of the air conditioning at Audio Advice Live, a well-stocked showcase of top audio and home theater products. You'll be able to kick the tires on some 60 brands and decide which ones you'd want to invite home.
Held at the downtown Sheraton Hotel, the event includes demos, listening and viewing rooms, panel discussions and expert advice about calibration and do-it-yourself techniques. The event is hosted by the consumer electronics retailer, Audio Advice.
The early-bird price on day passes is $15 on Friday and $20 on Saturday or Sunday. A 3-day pass is $35. To register, visit live.audioadvice.com.
LG Unveils UST Projectors and Novel Atmos Earbuds
Place either one of LG's new CineBeam ultra-short-throw (UST) projectors as close as 2.2-inches from a wall or screen to produce a 90-inch picture or 7.2-inches away for a 120-inch image, and you realize that you don't need a spacious room to project a big picture. With a native resolution of 4K UHD (3840 x 2160), each projector creates the image from a 0.66-inch diagonal micromirror array, also known as a Digital Light Processor (DLP).
Specs for the CineBeam HU915QE projector ($6,000) and CineBeam HU915QB ($6,500) are nearly identical: the same 90-120-inch projected screen size, 2,000,000:1 contrast ratio, and a three-channel laser light source rated to last up to 20,000 hours. They also each contain a 40-watt, 2.2 channel speaker system with Dolby Atmos pass-through and smart TV streaming apps including a web browser. Both come with LG's voice-capable Magic Remote and feature the same dimensions and input/output layout.
Where they differ would seem to defy logic because the less expensive QE model is rated to produce up to 3,700 ANSI lumens of brightness compared with the QB's 3,000 ANSI lumens. The QE's extra brightness is intended for use in a living room or family room where ambient light is harder to control. So, what accounts for the HU915QB's higher price? According to an LG spokesperson, the QB has a wider color gamut but lower brightness because the projector is optimized for a dark room like a dedicated home theater. And unlike the QE, the QB works with Calman AutoCal, an automatic calibration app that's much faster than manual calibration.
For more information on the LG CineBeam HU915QE, visit lg.com. For more on the LG CineBeam HU915QB, visit lg.com.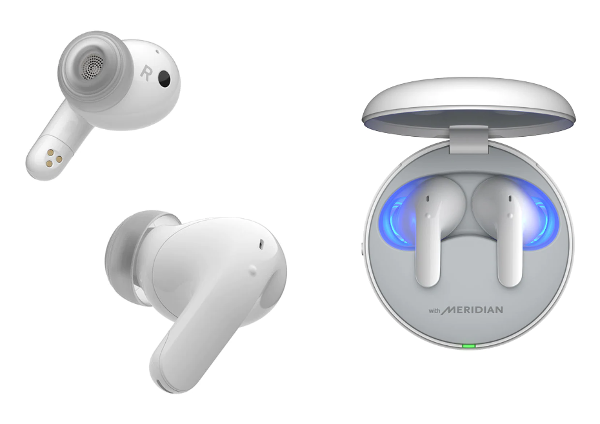 These Virtual Sound Buds Are For You
Switching from eyes to ears, who knew so much could be going on inside an earbud? The LG Tone Free T90Q wireless earbuds support Dolby Atmos with Dolby Head Tracking and purport to do what no earbuds have done before — integrate a wearable audio virtualizer by Dolby. To start, that means if a movie, game or music soundtrack carries instructions to elevate the sound through external speakers, the T90Q can do so virtually through the earbuds. But even without Atmos, an IMU (inertial measurement unit) sensor built into the T90Q captures the triaxial acceleration and triaxial angular velocity of your position, creating virtualized stereo sound based on the yaw, roll and pitch of your head. (And you thought such traits only applied to a drone?) Adding such dimensionality makes you feel like the action is actually happening around you.
Four microphones are built into the buds for phone conversations and active noise cancellation. The white buds are constructed with medical-grade silicone ear gels and feature large drivers made of graphene, a material said to reduce vibration; battery power said to last for up to 9 hours. The T90Q is available for $230.
LG is also introducing the Tone Free Fit (TF8Q) earbuds. The black buds are designed to be used while running or working out. SwivelGrip technology helps keep then firmly and comfortably in place, even during the most intense workouts while promoting better air circulation thanks to the lightweight design. The TF8Q earbuds also include medical-grade, hypoallergenic ear gels and incorporate active noise cancellation and Meridian HSP audio technology for "clear spatial sound." Battery life is rated for up to 10 hours.
Both Tone Free models come with a UVnano charging case, which uses UV-C light to refresh the earbuds; the process is said to effectively kill 99.9% bacteria on the earbud gels during the first 10 minutes of recharging. LG's new earbuds are expected to be available in September for $200.
For more information on the T90Q earbuds, visit lg.com. For more on the TF8Q earbuds, visit lg.com.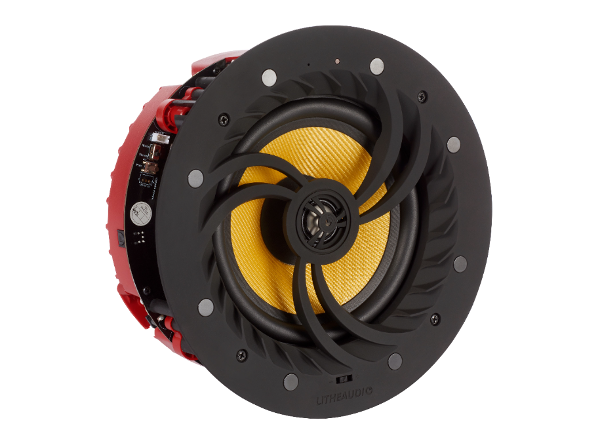 Whole House Wireless Speakers from Lithe Audio
One less cable per speaker simplifies installation. In the case of Lithe Audio, a British maker of audio systems for residential and commercial use, Bluetooth connectivity means all you need is a power source for each speaker. The company has had such systems available in the U.K. for years, but now it's making them available in the U.S. Systems can be configured for ceilings, walls, and even a patio or garden. For indoor use, the company's in-ceiling speakers feature woven glass-fiber woofer cones, titanium tweeters and pre-tuned Class D amplifiers. Its Bluetooth 5.0 Ceiling Speaker (Model LBT2) is $290 and offers a single-room solution for streaming music in such venues as a kitchen or bathroom. For audio streaming outside the house, Lithe's waterproof, IP56-rated Bluetooth Garden Rock Speaker (Model LGS2) is $375 and built to withstand all kinds of weather while blending into the landscaping.
Meanwhile, the company's Wi-Fi Multiroom Ceiling Speaker (Model LWF2) adds support for AirPlay 2 and Chromecast for distributed audio. Pricing is $499 each or $582 per pair and the speaker can be integrated into Control4 and FIBARO systems.
Lithe Audio's flagship ceiling model is the Pro Series Wi-Fi Multi-Room Ceiling Speaker (Model LPRO1). It has the same features as the Wi-Fi speaker with added support for 24-bit/192kHz high-resolution audio, an optical input, and two Ethernet ports. Pricing is $625 each or $690 per pair.
Lithe's new IO1 speaker, to be introduced in September at CEDIA 2022, offers the same features as the Wi-Fi Multi Room Ceiling Speaker but can be installed in a greater variety of configurations: vertically or horizontally, flush mounted in a corner, or even mounted on a yard stake outdoors. It will ship in the first quarter of 2023. Pricing has yet to be announced.
For more information, visit litheaudio.com.