New Gear: Krell Phantom III Preamplifier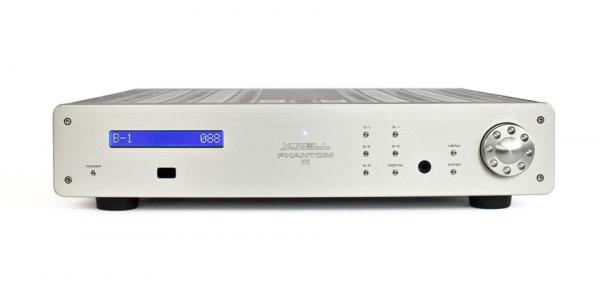 Krell is synonymous in the minds of many with high-performance audio, but they're not the first manufacturer that comes to mind when you mention DACs or headphone amps. That's about to change, perhaps, with the introduction of the Phantom III stereo preamplifier.
Behind the familiar industrial-cool front panel (available in silver or black) you'll find some familiar Krell touches. This is a dual mono design; left and right channels are housed on their own separate circuit boards and fed by their own power supplies. The circuit topology is of Krell's Current Mode design - discrete, surface-mount, balanced, no negative feedback, ultra-low distortion specs. The volume control is a balanced resistor ladder; Krell tells us this means preamp performance should be the same regardless of listening levels. The headphone circuit is identical to the main circuit, so this should be an interesting piece for high-end headphone enthusiasts.
The DAC, based on ESS's popular Sabre chip, supports streams up to 192 kHz/24 bit, and features optical and coaxial S/PDIF and AES/EBU inputs. This probably makes sense since the Phantom III is likely to be fed by a high-end music server, but there's no USB, so those with computer-based setups will be picking up a bridge of some sort to transport their bits Krell-ward.
Pricing is pretty reasonable considering this is a Krell product: $7,000 (you can also get the Phantom III without the digital input module for a mere $5,000.)