New Gear: Axiom Audio Debuts Omnirectional Linear Field Radiating Speakers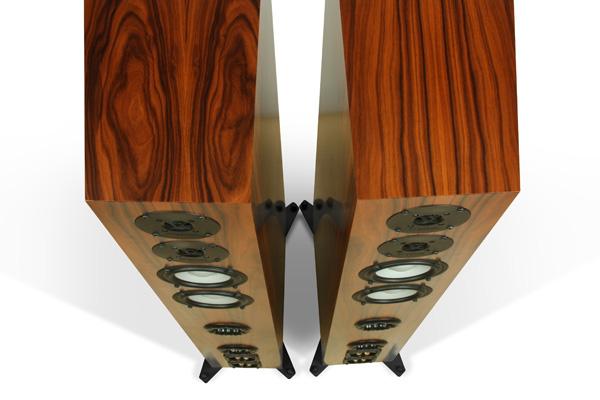 Making their formal debut tomorrow at Montreal's Salon Son & Image high-end show, Axiom Audio's new Omnirectional Linear Field Radiating Speakers are a brand new design, pairing front- and rear-baffle mounted drivers with custom DSP and a unique cabinet design to create a wholly new twist on transducers from the Canadian company.
The brainchild of Axiom boss Ian Colquhoun and engineer Andrew Welker, the new speaker pair uses 11 drivers per side, 7 front and 4 rear, with a four-channel digital signal processing unit (in its own case) managing things. You'll connect the right and left outputs from your amp or receiver to the DSP unit, which in turn provides two outputs to each speaker, one for the front drivers, one for the rear. The right and left cabinets are mirror images (and thus channel-specific); the baffles angled outward.
Available in Boston Cherry or Black Oak finishes, with grilles in complementary colors (you can even get contrasting color grilles for front and rear, if you like) the new speakers will be available soon and are priced at $3,760/pair, including (as usual for Axiom products) delivery in Canada and the United States.
Meanwhile, head on on up to SSI for a preview if you're in the vicinity (there's plenty of amazing stuff to see and hear at the show).