New Gear: Aperion Aris Wireless Speaker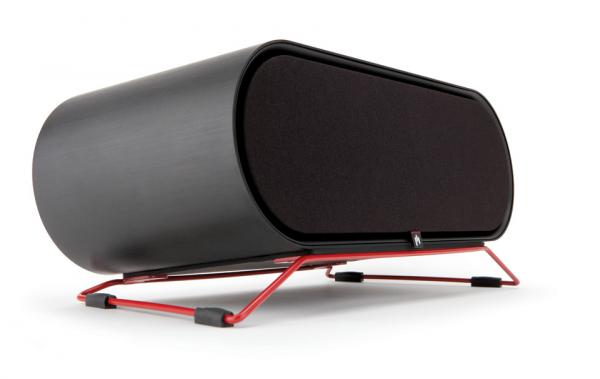 Well, just when you thought AirPlay (and, to some extent, Bluetooth) devices had the stylish wireless desktop all-in-one music system market all to themselves, along comes Aperion's new Aris Wireless speaker to shake things up (and, possibly, to finally make Windows 7's AirPlayesque DLNA-based Play To Wi-Fi audio feature a going concern).
You can connect the Aris to your network over Wi-Fi (either the old-fashioned way or using W-Fi Protected Setup if you like), or via Ethernet. Once you're set up (it's a single-button process if there's no password in the way), playback should be reasonably simple.
While the Aris is billed as a Windows device (and if it works as claimed, functionality should be seamless using Play To) it's really a DLNA client in a slick brushed aluminum package with speakers, and should work with nearly any source - PC, Mac, tablet, smartphone, whatever - running appropriate DLNA server software with UPnP support (likely candidates include the companion Aris Music app for Android or iOS, or third-party solutions such as media:connect, Skifta, Twonky, and a host of others), and it should let you access content residing either on your device or on your NAS. It might even work with your DLNA TV (though that isn't confirmed - DLNA setup and use can be a bit trickier in practice than in theory).
Obviously we'll be testing this all once review units emerge, but it's nice to see further efforts to make DLNA a little bit easier to use.
On the hardware side, the Aris is a stylish little beast. A few LEDs up front alert you to network status, while behind the baffle, you'll find a pair of 1-inch tweeters and a pair of 4-inch mid/bass drivers; those are biamped (four channels powered by a total of 100 watts of amplification). The active units are complemented by a pair of passive bass radiators around back. The top panel includes the usual volume and system controls.
There's an onboard power supply (no wall wart), a power switch (always nice to see) and more interestingly, an expansion port that allows for compatibilitly with other wireless protocols via additional receiver cards. It ships with a Windows/DLNA card installed. Futureproofing!
The Aris will set you back $499, and preorders start today; Aperion says that units should be shipping in mid June. And if you're a diehard iTunes fan, AirPlay support, via an add-on interface card, should be coming in the fall of this year (along with support for popular services including Spotify and Pandora).