Amazon Expands Its Fire TV and Echo Device Offerings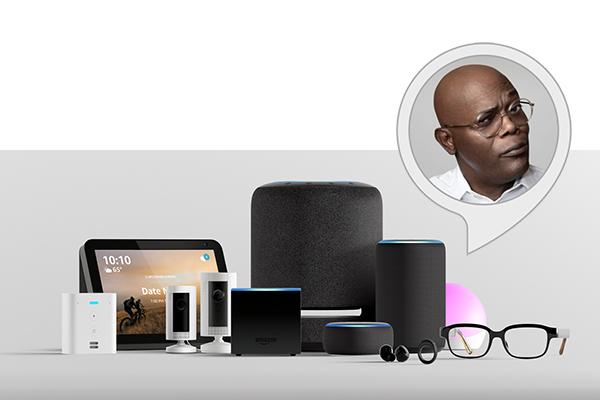 Amazon has announced a slew of new hardware and Alexa features. The list includes a next-generation Fire TV cube, a soundbar with Fire TV built-in, and several new Echo speakers. Also, Alexa is getting emotions.
New Fire TV Cube
The Fire TV Cube differs from other Fire TV players in that it accepts far-field commands without a remote and has Alexa built-in. It also uses multi-directional infrared technology, cloud-based protocols, and HDMI CEC to control the connected TV, AV receiver, and cable or satellite box. This second generation Cube supports Ultra HD content up to 60 fps and is compatible with the HDR10+ and Dolby Vision HDR formats. A beefy hexacore (6-core) processor enables faster searches and reactions to voice commands for changing channels, switching sources, and navigating menus.
Other enhancements found in the new Fire TV Cube include support for Multi-Room Music, Alexa Communication (to call other Echos or "drop in" on others in the household), and Alexa Voice Browsing. More than 50 apps now support in-app voice control of playback and navigation.
Available to pre-order now, the new Fire TV Cube costs $120 and will ship on October 10.
The Nebula Soundbar—Fire TV Edition
Amazon's new Nebula Soundbar features built-in Fire TV. While not as powerful as a Fire TV Cube or the 4K Fire TV Stick, it supports Ultra HD video with Dolby Vision pass-through and includes a voice remote for issuing commands to navigate menus, power the TV on/off, and control soundbar functions.
Available to pre-order now, the Nebula Soundbar sells for $230 and includes a free 90-day trial of Amazon Music Unlimited. The Nebula Soundbar ships November 21.
Eight New Echo Devices
Amazon's new Echo devices include the Echo Studio speaker and new editions of the Echo speaker, Echo Show, and Echo Dot. Other devices make it convenient to access Alexa from anywhere: the small, plug-in Echo Flex; Echo earbuds with Bose Active Noise reduction; the Echo Loop smart ring; and Echo Frames glasses with hands-free Alexa. The Loop and Frames are currently only available by invitation.
Echo Studio
Amazon's Echo Studio speaker was designed to reproduce immersive 3D music and movie sound with space, clarity, and depth. While aimed at the more discerning listener, it has the new "Certified for Humans" feature which means it is easy to connect and set up. Simply plug the Echo Studio in and the built-in Alexa microphones will automatically calibrate it based on the room and the speaker's location.
Two Echo Studios can be paired with a Fire TV device to offer a full-room Dolby Atmos experience. With Atmos-encoded content, the sound will surround the listener, appearing to come from all parts of the room.
The Echo Studio was designed to make the most of the new Amazon Music HD streaming option. The music will have Lossless audio at up to 850 Kbps—more than double the bitrate of standard streaming services. Millions of hi-res songs stream at up to 3730 kbps, which is ten times standard lossy audio bitrate. Amazon Music HD costs an additional $5 per month on top of the Amazon Music subscription rate.
Next Generation Echo Devices
The new generation of the full-size Echo speaker has an updated fabric design and increased back volume. It can be pre-ordered now for $100, with delivery by October 16.
Two 3rd-generation Echo Dots have also been added. The Echo Dot Kid's Edition (available now for $70) has a rainbow fabric design and is set up for kid-friendly content. The Echo Dot with clock (can be pre-ordered now for $60, with delivery by October 16) has an LED display that's reminiscent of a bedside alarm clock and displays the time, outdoor temperature, and alarms.
Echo Show 8 brings an 8-inch display to the Show family. It's large enough for watching videos and allows for video calls from a further distance than the 5-inch Show model while taking up less space than the 10.1-inch version. The Echo Show 8 can be pre-ordered now for $130 and will ship by November 21.
Convenient Access to Alexa
The Echo Flex is the least expensive yet most convenient way to add Alexa to any room in your home. The small speaker plugs into a wall socket and features a built-in USB port for optional accessories like a night light or motion sensor. Available for pre-order now at $25 with delivery on November 14.
Echo Buds play music with Bose Active Noise Reduction Technology and can accept Alexa commands, play Audible audiobooks, make calls, and reply with instant answers to questions. The wireless buds have a sealed in-ear design and are sweat-resistant. If you don't want to use Alexa, the Buds also work with Siri and Google Assistant on your phone. Available for pre-order at $130 with delivery by October 30.
The new Amazon hardware lineup includes two new devices that for now are available by invitation only. The Echo Loop Smart Ring connects to a compatible smart phone and enables quick calls and fast interactions with Alexa—movie showtimes, edits to shopping or to-do lists, smart home device controls, reminders, etc. You can apply now for an invitation to buy the Loop for $130, and the price will go up to $180 when it gets released.
Amazon's Echo Frames are black-framed glasses that fit most prescriptions and use open-ear technology that directs sound to your ears to minimize what others can hear. Only compatible with Android phones, the Frame is priced at $180 during the invitation period and will cost $250 when released.
Handy New Alexa Voice Features
Amazon also announced new enhancements to improve interactions with Alexa plus a new feature to take advantage of a device's "always-on listening."
Alexa Guard monitors your house for sounds that indicate danger. A notification will be sent to your phone's Alexa app if your Echo device detects the sound of glass breaking or smoke or CO2 alarms going off. And with Guard set to Away mode, you can choose to receive alerts when Alexa "hears" footsteps, talking, coughing, a faucet turning on, a door closing, etc. You can also create routines that include Guard. For example, when you say, "Alexa I'm leaving," it could trigger a command sequence that locks the door, turns off lights, sets Guard to Away mode, and turns on a compatible alarm.
Alexa Hunches uses advanced Artificial Intelligence (AI) to suggest routines that can be triggered with a single voice command. For example, say you have season tickets to the Dodgers and every time you ask the game start time, you also ask about weather and traffic conditions. Alexa Hunches will notice that pattern and ask if you want to create a routine that provides all that information.
If you don't get the answers you want from Alexa, or if it doesn't follow your command and you become frustrated, the Alexa device will soon be able to use neural text-to-speech technology to recognize your frustration and adjust its tone—just like a human interaction. On the flip side, if Alexa is telling you good news, like a winning score of a team you follow, its voice can express excitement. The new, more emotionally aware Alexa is scheduled to arrive at the beginning of 2020.
If you are growing tired of Alexa's voice, perhaps you'd rather hear the weather from Samuel L. Jackson. Just be aware that Sam can't help with shopping lists, reminders, or skills.