NAD T 747 vs. Onkyo TX-NR709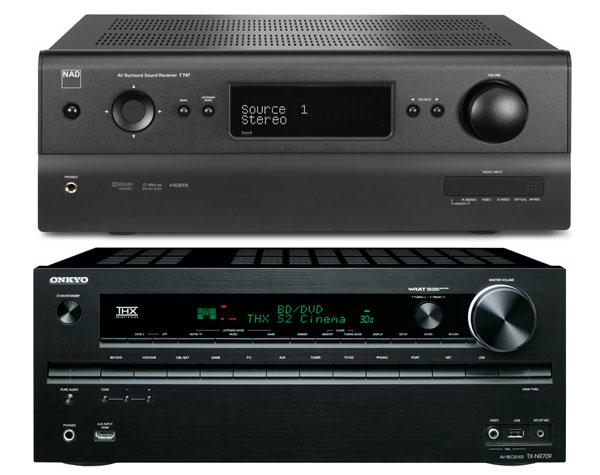 I am looking for a new A/V receiver, and I am seriously considering the NAD T 747 and the Onkyo TX-NR709. It will be used about 75 percent for movies and 25 percent for music. The features I'm looking for include at least 5.1 (if not 7.1), auto room calibration/set-up (such as Audyssey), the ability to decode all the new lossless formats found on Blu-rays, the ability to make movie dialog easier to hear when listening at low volume levels, and pre-out jacks so that I have the option of hooking up a separate amplifier to it in the future.
John Dixon
Just about every A/V receiver these days has at least 5 channels of amplification and can decode all the lossless audio formats. The 7.1-channel NAD T 747 (reviewed here) has everything you want except low-volume dialog compensation. NAD has a reputation for skipping some features in favor of audiophile performance at reasonable prices, and the T 747 seems to follow this trend; as reviewer Mark Fleischmann concluded, "it delivers impeccable amplification that can tell a cinematic story and weave a musical spell." On the other hand, the T 747 is getting a bit long in the tooth; our review of the T 757 will be posted in the next few weeks.
HT hasn't reviewed the Onkyo TX-NR709, but we have reviewed the TX-NR609, which is one of our favorite budget AVRs. However, it doesn't have pre-outs, so let's take a look at the 709, which has everything you want, including Audyssey and THX low-volume modes and pre-outs. It also has HDMI 1.4 connections (the T 747 uses HDMI 1.3, so no 3D or other features of 1.4), and it uses the Marvell Qdeo video processor, which is certainly newer and probably better than the NAD's Faroudja DCDi processor. You don't mention access to Internet radio and content on networked devices, which the Onkyo offers but the NAD doesn't.
Other AVRs to consider in your price range include the Integra DTR-50.2 ($1400) and Marantz SR7005 ($1600), both of which offer all the features you want as well as access to online and networked content and more power than the 709 or T 747. Please see the reviews of these units for the specifics, but I'm confident you won't be disappointed in any of them.
If you have an A/V question, please send it to askhometheater@gmail.com.
LATEST VIDEO