NAD Announces Trio of Digital Audio Products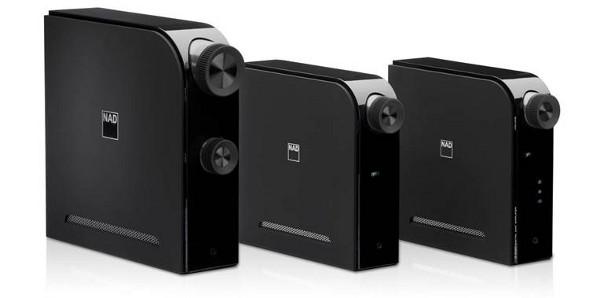 As part of its 40th Anniversary celebration, NAD Electronics has announced three compact, "eco-friendly" digital audio products, including an update of the iconic NAD 3020 integrated amplifier, one of the best selling hi-fi products of the '70s and '80s.
The D 3020 Digital DAC/Amplifier ($499), which uses NAD's latest digital technology to build on the original 3020, has inputs for digital and analog sources and supports high-resolution aptX wireless streaming from Bluetooth-enabled smartphones, tablets and laptops. Highlights include a low-jitter USB input that supports 24-bit/96-kHz music files and an infrared remote control. The D 3020 has a high-efficiency amplifier rated to deliver 30 watts/channel and said to consume less than 0.5 watts in standby mode.
The D 7050 Digital Network Receiver ($999) is based on NAD's high-efficiency Direct Digital amplifier technology and supports Apple's AirPlay technology for plug 'n play wireless music. It can also stream directly from a Bluetooth-enabled smartphone or laptop, supports the aptX codec, and has a USB input.
Analog circuits were eliminated in the D 7050 to reduce noise and preserve musical detail and transients, and all preamplifier functions are in the digital domain. Digital-to-analog conversion is done using a passive two-pole reconstruction filter located at the speaker outputs, resulting in a closed-loop digital amplifier. Large-scale integrated circuits (LSI's) and multi-layer printed circuit boards are employed to optimize speed and performance.
The D 1050 USB DAC ($499) supports a number of digital sources/connectors, including S/PDIF, balanced AES/EBU, coaxial, optical, and USB 2.0, which supports 192 kHz signal transmission. Delta/Sigma architecture with active oversampling filters is said to reduce out of band noise while maintaining linear phase response and virtually eliminating filter ringing in the pass band. Multi-layer circuit boards and micro-miniaturized surface-mount components soldered with lead-free, high silver content solder make possible ultra-short impedance-controlled signal paths. Analog outputs are fixed and include both balanced and single-ended connections.
Features common to all of the new NAD models include:
Headphone output with a dedicated volume control
Low power consumption
An eco-friendly design that requires fewer non-renewable resources to manufacture
Industrial design by David Farrage of DF-ID
All models are available for preorder and slated to ship in July.